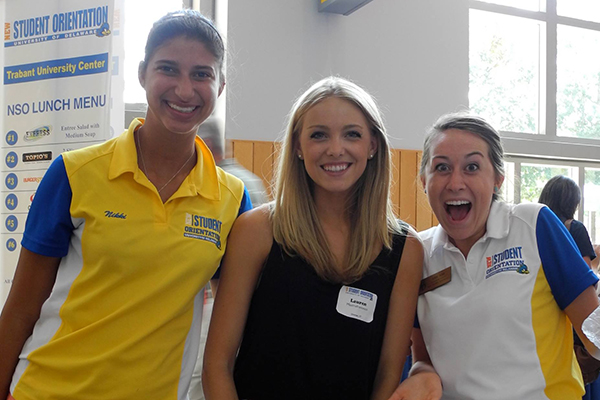 New Blue Hens of the Week
New UD students featured on Blue Hen Says Facebook page
4:01 p.m., July 18, 2013--Several members of the University of Delaware's Class of 2017 were introduced to the Blue Hen family this week when they were featured as "NSO New Blue Hens of the Day" on Facebook.
Each morning at UD's New Student Orientation (NSO), which ended July 17, students who liked the Blue Hen Says Facebook page were entered to win the title of NSO New Blue Hen of the Day, along with prizes and a photo feature on the page. 
'Resilience Engineering'
The University of Delaware's Nii Attoh-Okine recently published a new book with Cambridge University Press, "Resilience Engineering: Models and Analysis."
Reviresco June run
UD ROTC cadets will run from New York City to Miami this month to raise awareness about veterans' affairs.
This week's winners included: 
Garry Johnson
Anxiously awaiting the arrival of this coming semester, Garry Johnson said he plans to kick off his college career by maintaining a high grade point average, joining an intramural basketball team and fostering many new friendships.
An exercise science major from New Castle, Del., Johnson said looks forward to displaying his Blue Hen pride. 
"I've always loved participating in spirit weeks," Johnson said. "UD has a ton of school spirit, and I can't wait to take part in it. I know the spirit week here will be on a whole new level."
Tricia Harrington
Tricia Harrington, a communication interest major from Georgetown, Del., said she cannot wait to follow in her sister's footsteps and join the Blue Hen legacy this fall. 
She said that she looks forward to making new friends and experiencing a new life while staying in a close proximity to her home. She plans to make her voice heard by joining WVUD-FM, the UD radio station.
Lauren Mastrofrancesco
Lauren Mastrofrancesco, a fashion merchandising major from Orange, Conn., and the final Blue Hen of the Day, said she chose UD because it is a large state-assisted school with a great deal of spirit and also because of her major.
She said she is interested in joining the UD Dance Team and looks forward to meeting new people when she returns to campus for the start of the fall semester.
Article by Laura Hepp