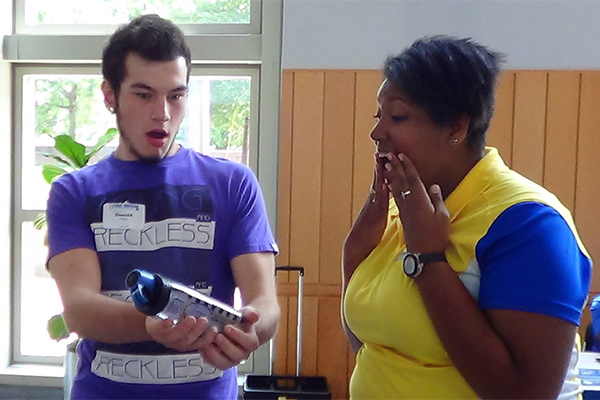 New Blue Hens
New UD students featured on Blue Hen Says Facebook page
1:27 p.m., July 12, 2013--Several members of the University of Delaware's Class of 2017 were introduced to the Blue Hen family this week when they were featured as "NSO New Blue Hens of the Day" on Facebook.
Each morning at UD's New Student Orientation (NSO), students who like the Blue Hen Says Facebook page are entered to win the title of NSO New Blue Hen of the Day, along with prizes and a photo feature on the page. 
'Resilience Engineering'
The University of Delaware's Nii Attoh-Okine recently published a new book with Cambridge University Press, "Resilience Engineering: Models and Analysis."
Reviresco June run
UD ROTC cadets will run from New York City to Miami this month to raise awareness about veterans' affairs.
The winners this week were: 
Alex Meyer
Alex Meyer, a Bear, Del., native, said he cannot wait to leave the house and kick off college life.
This soon-to-be English creative writing major will be following in his high school English teacher's footsteps by joining the Blue Hen legacy.
In addition to taking classes, Meyer said he plans to join the club wrestling team on campus.
Victoria Parisen
After falling in love with UD's campus and inviting atmosphere, Victoria Parisen said she looks forward to calling a UD residence hall her home in the fall.
An early childhood education major from Kinnelon, N.J., Parisen said she hopes to nurture her sweet tooth by joining the Chocolate Club, a registered student organization.
Dan Cetlin
Traveling to UD from Westfield, N.J., Dan Cetlin said he enjoyed NSO and scheduling his classes for the coming semester. 
Excited to study business and join the intramural ice hockey and soccer teams, Cetlin said he is ready to start a new life. 
"I can't wait to have new friend groups, be in a new environment and, ultimately, just have a new experience," Cetlin said. "I love the vibe here on campus and I can't wait to make a fresh start here."
Alyssa Santangelo
Alyssa Santangelo, a Harleysville, Pa., native and new member of UD's NCAA Division I swimming team, said she chose UD for its athletic reputation and "cool" atmosphere.
In addition to being an athlete and a political science major, Santangelo said she plans to get involved with student government.
Jacob Calder
As an exercise science major from Goshen, Conn., Jacob Calder said he plans to maintain a strong GPA while he takes courses on a track for graduate school. 
An aspiring chiropractor, Calder also plans to stay busy with student government and Greek life. 
He said that immediately upon seeing UD, he knew he was destined to be a Blue Hen. "When I visited campus, I felt like I was surrounded by other me's," Calder said. "I fell in love with UD two years ago, and I can't wait to finally come here. I can't wait to finally come home."
Article by Laura Hepp