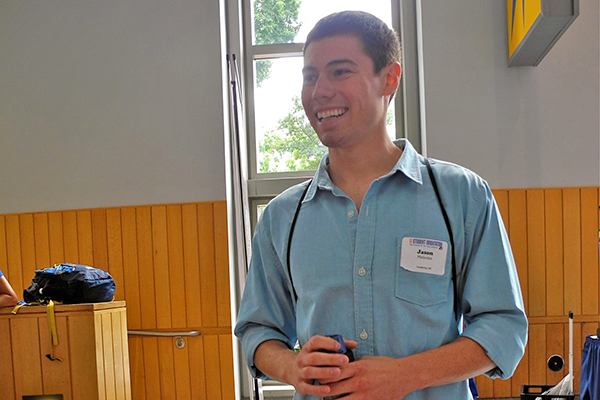 New Blue Hens
New UD students featured on Blue Hen Says Facebook page
1:10 p.m., July 5, 2013--Several members of the University of Delaware's Class of 2017 were introduced to the Blue Hen family this week when they were featured as "NSO New Blue Hens of the Day" on Facebook.
Each morning at UD's New Student Orientation (NSO), students who like the Blue Hen Says Facebook page are entered to win the title of NSO New Blue Hen of the Day, along with prizes and a photo feature on the page. 
'Resilience Engineering'
The University of Delaware's Nii Attoh-Okine recently published a new book with Cambridge University Press, "Resilience Engineering: Models and Analysis."
Reviresco June run
UD ROTC cadets will run from New York City to Miami this month to raise awareness about veterans' affairs.
The winners during the shortened Independence Day week included: 
Amanda Rowella
As a soon-to-be business and marketing major from Danbury, Conn., Amanda Rowella said she looks forward to starting her new life at UD. 
Already having new friendships under her belt, she said she loved spending NSO with her orientation leader and group. 
She hopes to study abroad in Europe and join several registered student organizations (RSOs) in the fall.
Emily Merklen
Emily Merklen said she cannot wait to call UD her home next semester. This Southbury, Conn., native also said she looks forward to hanging out on Main Street with new Blue Hen friends
In addition to studying dietetics, Merklen said hopes to get involved with Greek life and a dance RSO.
Jason Melendez
This fall, Jason Melendez will accomplish his goal of becoming a full-time student at UD.
After serving six years with the Air Force, Melendez will study energy and environmental policy while also playing club ice hockey.
"I have always loved spending time in Newark," Melendez said. "Everyone is always so friendly and helpful here. I loved my experience with the Air Force, but I'm so excited to finally come to UD."
Article by Laura Hepp