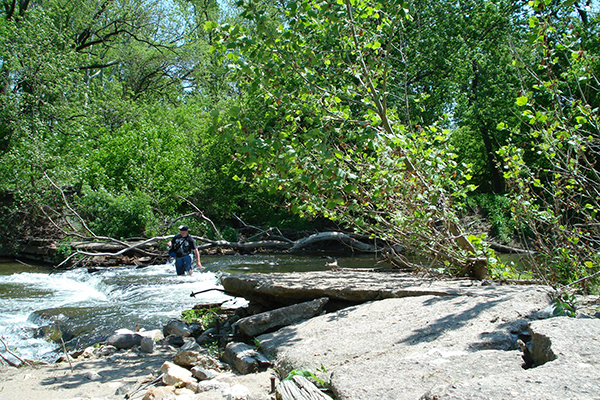 Native Delaware: Shad
UD works to restore shad to White Clay Creek
3:57 p.m., July 2, 2013--Hold staff meeting. Write up report. Take apart a 236-year-old historic dam. 
After Labor Day, Jerry Kauffman has an unusual item on his to-do list. As head of the University of Delaware's Water Resources Agency, he has been charged with overseeing the deconstruction of a dam that has been in existence since colonial times.
From graduates, faculty
As it neared time for the processional to open the University of Delaware Commencement ceremonies, graduating students and faculty members shared their feelings about what the event means to them.
Doctoral hooding
It was a day of triumph, cheers and collective relief as more than 160 students from 21 nations participated in the University of Delaware's Doctoral Hooding Convocation held Friday morning on The Green.
Removing Dam No. 1 from the White Clay Creek will improve water flow and water quality in the creek, which was designated a National Wild and Scenic River in 2000. It also should make for some great fishing next spring and in years to come.
"Adult shad live in the Atlantic Ocean. In the spring, they travel up the Delaware River to spawn in fresh water," says Kauffman. "But when they arrive at dams they can't travel any further. By removing this dam, we'll be re-opening 3 1/2 miles of spawning habitat for American shad for the first time in more than two centuries."
The dam is located near present-day Delaware Park on land once owned by Daniel Byrnes, a Quaker preacher and miller.
American shad are richly flavored and make good eating. In the late 1890s, the Delaware River had the largest annual commercial catches of any river on the Atlantic Coast. However, the American shad catch started to decline in the early 1900s. Pollution was the biggest culprit, says Kauffman. "The Delaware was so polluted by the mid 20th century that oxygen levels were too low for migrating shad to survive," he says.
With the passage of the federal Clean Water Act in 1972, water quality in the Delaware River rapidly improved, enabling more adult shad to survive in the river and more adult and juvenile shad to return to the Atlantic Ocean after spawning.
However, restoring shad populations in northern Delaware can only go so far with structures such as Dam No. 1 still blocking the shad's passage upstream. A number of other states also have made dam deconstruction a priority. In Rising Sun, Md., the Octoraro Dam was removed in 2005 and more dams in that state are slated for removal. 
Dam No. 1 will be Kauffman's first dam removal project but it won't be his last. Thanks to an $85,606 grant from the National Oceanic and Atmospheric Administration and the nonprofit group American Rivers, six additional northern Delaware dams will be removed, reopening 14 miles of fish passage, all the way to the Pennsylvania state line.
Because Byrnes' dam is one of the few remaining timber-crib dams in the area, Kauffman and his team aren't just pulling it down willy-nilly. Three years ago, when he started planning the dam's removal, he connected with Rebecca Sheppard, associate director of UD's Center for Historic Architecture and Design.
"We evaluate the significance of historic properties in Delaware and throughout the region but this was the first time we were asked to document a historic dam," says Sheppard. "My grad students and I did a lot of research to learn about dams and about this dam, in particular. Then in March, we put on our hip waders and waded into the White Clay for the actual field work."
Sheppard learned that Byrnes built his dam around 1777, which was a very busy year for the miller, as well as for the new nation. In early September of that year, shortly after the Battle of Cooch's Bridge, George Washington held a war council at Byrnes' residence, now known as the Hale-Byrnes House. The Marquis de Lafayette and others helped Washington plan the defense of Philadelphia at this meeting.
There are plans to move portions of the dam to the Hale-Byrnes House. It could be used for school programs and during public events that are held periodically at the house.
Kauffman expects the deconstruction of the dam to go slowly, and not just because the goal is to keep portions intact for transfer to the Hale-Byrnes House. 
"This dam was a high-tech, class A dam in its time," says Kauffman. "Byrnes was a miller from Brandywine Village and he knew what he was doing. Built with just logs, stones and iron pins, the dam has stood intact for centuries. It was only during recent storms that it has started to show deterioration."
"Once all seven dams are removed there will be new recreational activities for the public," notes Kauffman. "We'd like to establish a kayak trail so people can travel the route of this historic waterway. There also will be opportunities to fish for shad at county parks, including one located off Old Manor Road in Wilmington and another in Windy Hills in Newark."
Article by Margo McDonough