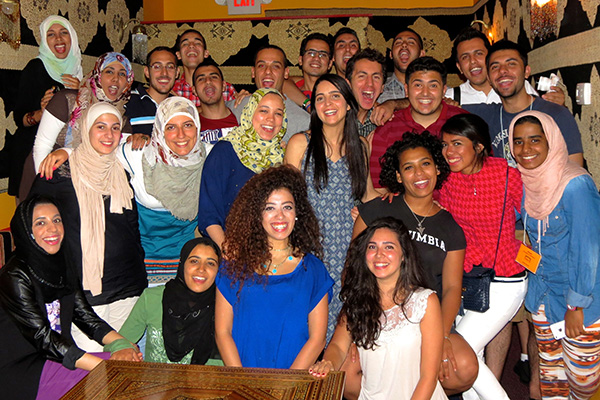 MEPI anniversary
UD welcomes students from Middle East Partnership Initiative
9:20 a.m., July 2, 2013--Twenty-four college students from across the Middle East and North Africa arrived at the University of Delaware on June 23 for an intensive program that aims to not only change their lives, but ultimately create positive change in their communities back home.
Their visit, part of the Middle East Partnership Initiative (MEPI) Student Leaders Program, also marks an important milestone for the University of Delaware — now serving 10 consecutive years as a MEPI host, the longest-running in the U.S. 
Fulbright awards
Three University of Delaware students and an alumna have received word this spring that they will travel abroad as part of the newest class of Fulbright Student Program award winners.
Peace Corps plans
Two University of Delaware students, John McCarron and Bridgette Spritz, have been selected as Peace Corps volunteers and will serve in Ghana and Rwanda.
Established in 2002, MEPI is a cultural exchange program funded by the U.S. Department of State that is designed to give students training in leadership to foster civic engagement back home. The program provides $600 million in development funds for over 1,000 grant projects in 18 countries. 
This year's class of 24 college students is the largest that UD has hosted. Students are selected for the program based on their academic and leadership potential and represent 15 different countries and territories from the Middle East and North Africa.
"I am very excited to welcome another wonderful group of MEPI students to the University of Delaware, and I am extremely thankful to all of the members of the faculty that have participated in the program over the last 10 years," said Lesa Griffiths, professor in the College of Agriculture and Natural Resources and the current academic director and principal investigator who brought the MEPI program to UD. "I am also delighted that the Institute for Global Studies continues to provide the tremendously dedicated administrative and staff support that makes the MEPI program at UD a life-changing experience for everyone involved."
While at UD, students will participate in a six-week program that focuses on leadership, communication, political science and philosophy and helps students to create civic engagement projects that enrich their home communities. These projects are then presented at the annual MEPI Leadership Conference held within the first months of the following year.  
Additionally, the students will visit major U.S. cultural heritage and government sites, with trips to Washington, D.C., Colorado, Boston, Philadelphia and New York City.
Over the past 10 years, 176 MEPI students have come to UD creating an extensive alumni network. Some have come back to UD to pursue their graduate degrees, while others have become peer mentors and one is a current UD employee. The list of occupations and success stories of UD's MEPI alumni range from engineers and doctors, to teachers and non-profit sector employees. 
Joining Griffiths on UD's MEPI faculty administrative team are Audrey Helfman, leadership director, who also has served the program for all 10 years, and a committed team of UD student peer mentors and administrative staff from the Institute for Global Studies, who oversee the administration and logistical operation of the program.
James Magee, Hugh M. Morris Professor of Political Science and International Relations, designed the academic program and serves as a lecturer. Along with Magee, Muqtedar Khan and David Wilson, also both on the faculty in the Department of Political Science and International Relations, will discuss the political culture of the United States, challenges of pluralism, constitutional freedoms and equality. 
Tracey Holden, who helped design the communication portion of the program, Lindsay Hoffman and Danna Young — all on the faculty of the Department of Communication — will emphasize persuasive communication and mobilization through social media, and Alan Fox from philosophy will present ideas of pluralism, tolerance and contemporary religious issues.
For more information on the MEPI program at UD, visit this website.  
Article and photo by Elizabeth Adams