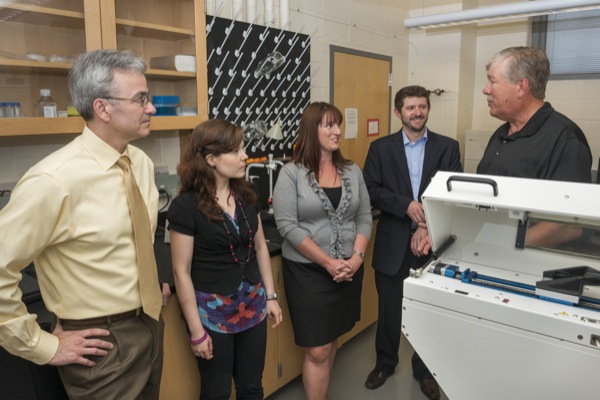 Breaking even
MBA students develop marketing strategy for scientific cores
8:55 a.m., July 17, 2013--Randall Duncan, professor and chair of the Department of Biological Sciences at the University of Delaware, will be the first to admit why it hasn't been easy for scientific cores to break even on campus.
"We've been scientists," said Duncan. "We don't know anything about business or else we would be business people."
From graduates, faculty
As it neared time for the processional to open the University of Delaware Commencement ceremonies, graduating students and faculty members shared their feelings about what the event means to them.
Doctoral hooding
It was a day of triumph, cheers and collective relief as more than 160 students from 21 nations participated in the University of Delaware's Doctoral Hooding Convocation held Friday morning on The Green.
UD's scientific cores encourage and support research by supplying state-of-the-art equipment to students, faculty and outside users. Supporting scientific and research staff on site gives UD a degree of prestige and helps to attract diverse faculty.
Duncan really wanted to begin to enhance an in vivo imaging core for researchers to test hypotheses through non-invasive imaging using technologies like MicroCT and MRI. 
"The question was whether we should start a core and what the marketability of such a core would be," said Duncan. "We've really tried to do this on our own and I think that's one of the reasons it's always hard to come close to breaking even."
In an effort to stay within budget, Duncan turned to Rick Andrews, deputy dean and professor of marketing in the Alfred Lerner College of Business and Economics, for help.
Andrews reached out to colleagues for recommendations on outstanding master of business administration (MBA) program students willing to help with the study. Several students were chosen to interview and a team of four MBA students was formed.
Team member Valery Caputi Lopez explained how the group approached the project from a consultant's perspective. 
"Professor Duncan told us what they wanted to do in the long-term and what problems they identified at the beginning, and we explored how to go about solving those problems," said Lopez.
The long-term goal, said team member Matthew Gore, became to "create a marketing strategy and template for developing these scientific cores."
The MBA team administered a brief survey of 13 questions to UD students and faculty already using in vivo equipment in order to understand user hours, habits and funding.
"I think developing and executing a live survey was really interesting," said Amber Grant, an MBA student on the project. "I took marketing research and learned a lot in that class. This was a great way to apply the learning and see it play out in real life."
After collecting data from the survey, and obtaining knowledge that a core cannot make money or undercut competitors, the MBA team brainstormed pricing strategies.
"We examined all types of payment options that would make the University distinctive in different ways," Lopez said.
The MBA team suggested an incremental pricing system to allow frequent users to pay for a set number of hours upfront at a discounted rate and have less frequent users with specialized needs pay as they go. They also suggested utilizing off-hour discount times in which users could pay at a discounted rate after 5 p.m.
"They want to know the equipment is being used," said Lopez, who noted the unique pricing strategy was designed to provide a return on the initial investment and to maximize equipment utilization.
The other issue the MBA team faced was how to raise core awareness. Gore said the team first suggested that the website be cleaned up because it wasn't very user-friendly.
The MBA team also noticed that no competing institution had an ideal website. 
"Some sites were better than others and some were more user-friendly than others," Lopez said. "Some had an interactive calendar where you could make appointments and some had no pricing information whatsoever."
As a result, the team proposed to have everything from pricing information to a calendar on one site instead of having too many inconvenient sub-labels.
They also suggested professors and department heads carry and distribute business cards to help direct students and researchers coming from abroad to the central site. Finally, the MBA team recommended Duncan conduct road shows to demonstrate core capabilities to external audiences.
"The report they wrote was very favorable and it gave an indication of needs of the researchers as far as the equipment we have, do we need to upgrade it and do we need to get new equipment," Duncan said. "They had a business plan for the three benchmarks we set, all of which were competitive with comparable institution's cores, and really established a template for how we evaluate cores across campus in my view."
Duncan, along with the team, will present the work to UD's Office of the Vice Provost for Research and to other core managers later this summer. 
Article by Christopher W. Pinti
Photo by Evan Krape