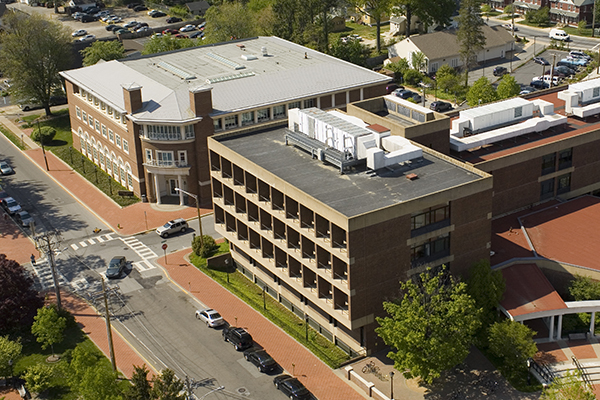 MBA online
Early success seen in Lerner's new, innovative online MBA program
4:16 p.m., July 8, 2013--University of Delaware alumni already know the value of their degrees but many are learning they can build upon their earlier UD successes with the fully online master of business administration (MBA) program now offered in the Alfred Lerner College of Business and Economics.
Launched earlier this year in March, the online MBA is now serving more than 40 students without adding to their commute time or affecting their regular work hours.
From graduates, faculty
As it neared time for the processional to open the University of Delaware Commencement ceremonies, graduating students and faculty members shared their feelings about what the event means to them.
Doctoral hooding
It was a day of triumph, cheers and collective relief as more than 160 students from 21 nations participated in the University of Delaware's Doctoral Hooding Convocation held Friday morning on The Green.
"I'm glad I started, as it will never get easier to jump in and get my MBA," said Sarah Pletz, who started in the May cohort, of the convenience and flexibility the online option offers.
The degree, which can be completed in as few as 16 months, offers personalized attention and career coaching as hallmarks of the program.
Dave Morris, senior associate director of annual giving at UD, recently completed his first online course and was impressed not only with the coursework but the individualized attention students receive.
"It was very challenging and I certainly learned as much if not more than if I were in the actual classroom," said Morris. "The entire process has really been top notch, from the orientation video and Dean Bruce Weber's message about being 'part of the UD community' to the entire MBA team including Denise Waters and Amy Becker."
Taught by doctoral-level faculty in the Lerner College, the online MBA offers a broad view of business yet allows students to dive deep into key areas of specialization and develop skills to compete in an increasingly global business world. 
The curriculum mirrors the on-campus part-time MBA and maintains AACSB accreditation, which may be required for tuition reimbursement. Yet the online option offers flexibility for students who travel for work or need to juggle busy careers and family life, all while maintaining their current job.
"We are the best value among online AACSB-accredited MBAs," said Waters, assistant director of graduate recruitment for Lerner College graduate and executive programs. "We also have a variety of scholarship opportunities, including a $5,000 affiliate partner scholarship and up to $5,000 Dean's Merit scholarships.
"There is no better time to start your online MBA and you have compelling reasons to do it at the institution you know, love and trust," said Waters. 
New incentives, including eligibility for a free iPad mini with a one-year subscription to The Economist, TED Live and LinkedIn Premium, are being offered to students who apply by Aug. 12 for the September or October 2013 cohorts (terms and conditions apply).
For more information, visit the online MBA website or contact an enrollment specialist at 855-704-0318 to start the application process.