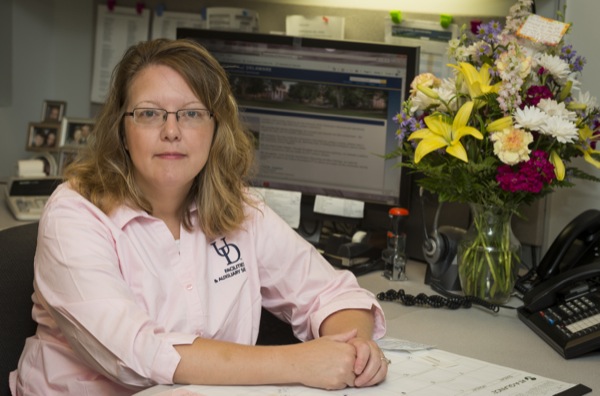 HR Liaison of the Quarter
Facilities' Boyle named HR Liaison of the Quarter
5:25 p.m., July 23, 2013--Sheila Boyle, human resources assistant in University of Delaware Facilities, has been named Human Resources Liaison of the Quarter for the second quarter of 2013.
The award identifies and recognizes an outstanding performer within the HR liaison community for the preceding quarter. 
June 6: UDid It! Picnic
All UD faculty and staff members are invited to attend the annual UDid It! employee appreciation picnic, set from 11 a.m.-1:30 p.m., Monday, June 6, on The Green.
2FA protects you
If you are using two-factor authentication (2FA), even if a hacker has your password, your information is probably safe.
Patricia Fogg, director of facilities and auxiliary services and human resources, said Boyle is always ready to learn and perform new tasks and to share that knowledge with others.
"Sheila was the lead person in our unit this year for coordinating and employing some 157 summer students who applied to our various posted vacancies," Fogg said. "She is a team player and a tremendous talent to our unit and the Facilities and Auxiliary Services organization."
Fogg noted that Boyle also is very professional in presenting information to individuals or groups of individuals, diligent in her research and always working to gather facts for her audience. 
"Sheila possesses a positive and extremely flexible approach to work life, and is always willing to help anyone at any time, even when her own plate is extremely full," Fogg said. "She makes her job look effortless and the customer always receives first-class responses." 
Kathy Michael, administrative assistant in HR Services in Facilities, said that Boyle's respect for others and willingness to help makes her especially deserving of the award. 
"When it comes to an employee's status, she always knows exactly what to do and when to do it," Michael said. "I really like working with Sheila because she is an all-out nice person." 
Colleague Jo Alice Casapulla, generalist in HR Services, said that Boyle considers working at UD to be her dream job.
"Sheila is liked by everyone and makes her customers feel comfortable when they come to her with HR questions or issues," Casapulla said. "She is always willing to jump right in and help whenever needed. I'm glad Sheila is part of our HR team." 
Describing herself as surprised and honored to receive the award, Boyle said that the best part of her job is the people she gets to work with. 
"We have a great group of employees who provide a tremendous service to the University," Boyle said. "I also want to acknowledge the support that we, as HR liaisons receive from the central Office of Human Resources. I couldn't do my job effectively without them."
Article by Jerry Rhodes
Photo by Kathy F. Atkinson