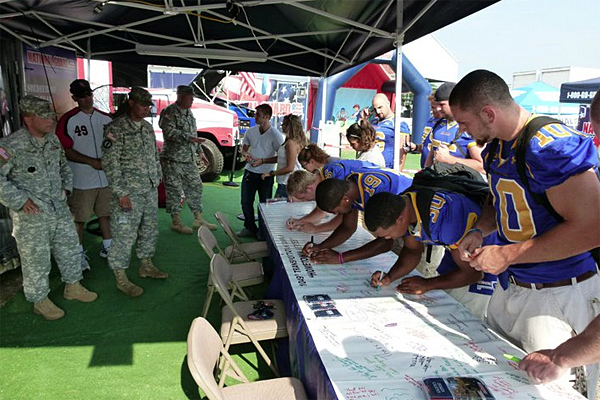 Hens at State Fair
UD student-athletes to visit Delaware State Fair July 18
3:02 p.m., July 17, 2013--University of Delaware student-athletes and football coach Dave Brock will be on hand at the Delaware State Fair in Harrington on Thursday, July 18.
Student-athletes attending will include representatives of the football, volleyball and men's and women's basketball teams.
Rower honored
University of Delaware junior Claire Brown has been named second team Collegiate Rowing Coaches Association All-Region.
Unsung Hero
The One Love Foundation has announced that University of Delaware men's lacrosse standout Elijah Conte has been selected as a winner of the 2016 YRL Unsung Hero Award.
Thursday is opening day for the 2013 State Fair.
Patrons in attendance will have an opportunity to interact and meet with select Blue Hen players and coaches at the 94.7 WDSD tent located near the main entrance from 6 to 7 p.m. The players and coaches will be signing autographs, taking questions, and giving interviews live on the radio. 
The Blue Hens also can be found at the Grotto Pizza location inside the fair, and will mingle with fans throughout the fairgrounds during the evening.
Fans are also invited to get a scoop of UDairy Creamery ice cream and to visit with University representatives at the Delaware Building beginning July 18 and continuing through the entire length of the fair, ending July 27. 
"The State Fair is a great opportunity for our student-athletes, coaches, and administrators to meet and interact with the entire Delaware community," said Eric Ziady, UD director of athletics and recreation services. "Much like our football scrimmage held in Milford earlier this spring, we are constantly striving to bring the UD team throughout the state whenever possible. As a team, while we proudly represent our University, we are even more proud to represent the entire state of Delaware." 
UD Athletics will return the following Thursday, July 25, as Ziady and select staff members will be on-site at the Delaware Building from noon to 4 p.m.