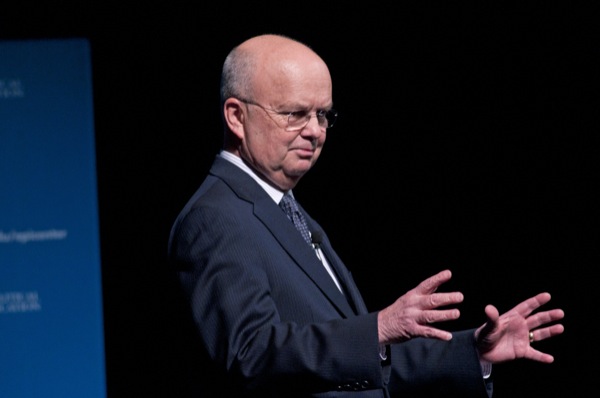 Global Agenda
UD world affairs speaker series has featured leading officials
3:13 p.m., July 15, 2013--A former speaker in the University of Delaware's Global Agenda series on world affairs has just been appointed foreign minister of Egypt.
Nabil Fahmy, who spoke at UD in the 2002 edition of Global Agenda, became Egypt's foreign minister on Sunday, following the upheaval in Egypt's government in the past two weeks. 
Fulbright awards
Three University of Delaware students and an alumna have received word this spring that they will travel abroad as part of the newest class of Fulbright Student Program award winners.
Peace Corps plans
Two University of Delaware students, John McCarron and Bridgette Spritz, have been selected as Peace Corps volunteers and will serve in Ghana and Rwanda.
Fahmy is a career diplomat who was previously Egypt's ambassador to Washington. In 2002, he spoke as part of the University's series on "Understanding International Terrorism."
He is one of a number of high-profile speakers that UD's Global Agenda series has featured through the years, including:
Former foreign minister of Jordan, Marwan Muasher (2002);
Then-World Bank President Robert Zoellick (2011);
Former director of the National Security Agency, Gen. Michael Hayden (2012);
Then-Israeli Consul General Daniel Kutner (2009);
Former FBI counterterrorism chief Robert Blitzer (2002);
Then-U.S. ambassador to the United Nations John Bolton (2006);
Former U.S. Defense Secretary William Perry (2004);
Former United Nations weapons inspector David Kay (2004); and
Former White House spokesman Mike McCurry (2001).
In a companion program to Global Agenda, then called "America and the Global Community," other prominent speakers at UD have included:
Several prominent journalists have also appeared at UD under the Global Agenda banner, including, in 2003, James Risen, the New York Times reporter who first broke news of the National Security Agency's secret spying on Americans, which is now receiving a lot of attention in the news after the further disclosures of CIA contractor Edward Snowden.
Videos of many Global Agenda programs in recent years are available online.
Beginning next spring, Global Agenda at UD will be co-sponsored by the Center for Global and Area Studies and the Center for Political Communication, under the leadership of CGAS director and professor of political science and international relations, Julio Carrion.
Photo by Duane Perry