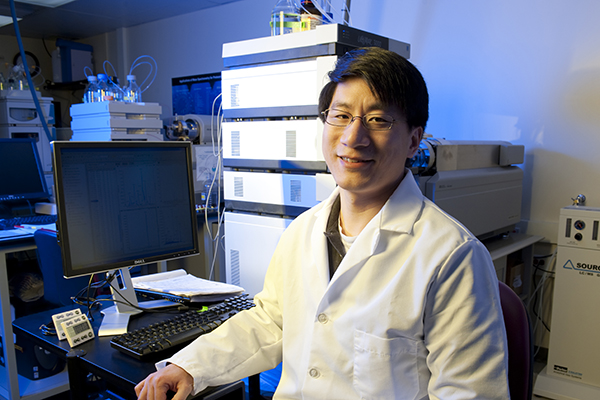 For the Record, July 26, 2013
University community reports recent announcements, awards, presentations
10:24 a.m., July 26, 2013--For the Record provides information about recent professional activities of University of Delaware faculty, staff, students and alumni.
Recent announcements, awards and presentations include the following:
From graduates, faculty
As it neared time for the processional to open the University of Delaware Commencement ceremonies, graduating students and faculty members shared their feelings about what the event means to them.
Doctoral hooding
It was a day of triumph, cheers and collective relief as more than 160 students from 21 nations participated in the University of Delaware's Doctoral Hooding Convocation held Friday morning on The Green.
Announcements
Kelvin Lee, Gore Professor of Chemical and Biomolecular Engineering, has been appointed to a second five-year term as director of the Delaware Biotechnology Institute beginning Sept. 1. Charles G. Riordan, vice provost for research, announced the appointment, saying that a review committee found that Lee had a productive first term as director and "has a vision for the institute that will increase its impact in supporting the Delaware life sciences community" and "can lead it effectively to serve the research community at UD." Lee joined the UD faculty in 2007 from Cornell University, were he served as the Samuel C. and Nancy M. Fleming Professor of Molecular and Cell Biology in the School of Chemical and Biomolecular Engineering and as director of the Institute for Biotechnology and Life Science Technologies and also of the New York State Center for Life Science Enterprise. A graduate of Princeton University, Lee received his master's and doctoral degrees from the California Institute of Technology and also studied at the Institute of Biotechnology of the Swiss Federal Institute of Technology.
Awards
The American Society for Biochemistry and Molecular Biology (ASBMB) has named Harold B. (Hal) White III, professor of chemistry and biochemistry and director of the Howard Hughes Medical Institute Undergraduate Science Education Program at UD, the recipient of its 2014 Award for Exemplary Contributions to Education, which recognizes "a scientist who encourages effective teaching and learning of biochemistry and molecular biology through his/her own teaching, leadership in education, writing, educational research, mentoring or public enlightenment." White will deliver a plenary symposium lecture at the society's annual meeting in April. Also honored was former UD professor Lila M. Gierasch, now at the University of Massachusetts Amherst, who will receive the ASBMB's 2014 Mildred Cohn Award in Biological Chemistry.
Melissa Melby, assistant professor of anthropology, was awarded an Abe Fellowship ($108,703) from the Social Science Research Council and Japan Foundation Center for Global Partnership to fund fieldwork in Tokyo and Kyoto, Japan, from June 2012-July 2013 for her project "Minding the Gap: Measuring Divergence in Understandings of Dietary Problems, Causes and Solutions between Experts and the Public in the US and Japan." The project was also supported by a UD Institute for Global Studies International Research Award and by the College of Arts and Sciences and Department of Anthropology.
Allyson Zeitschel, a biomedical engineering major, was among 179 Alpha Company cadets who graduated from the Leader's Training Course on July 12 at Fort Knox, Ky., as part of Reserve Officers' Training Corps preparation. Zeitschel also received the Society of Military Engineers Award, which is presented to the top cadet who is enrolled in an engineering curriculum for military excellence.
Media
Meredith K. Ray, associate professor of Italian, had an interview with novelist Sarah Dunant appear in the July 22 issue of Full Stop Magazine. The interview was on historical fiction, detective fiction and feminism. The transcription of the interview was supported by the Department of Foreign Languages and Literatures.
Debra Hess Norris, Henry Francis du Pont Chair in Fine Arts, was interviewed July 16 by Croatian National Television. She is teaching a workshop at the Croatian National Archives in Zagreb on the treatment of water-damaged photographic materials.
Presentations
Melissa Melby, assistant professor of anthropology, delivered a plenary lecture at the 8th Asia Pacific Conference on Clinical Nutrition in Maihama, Japan, on June 12. Her talk was titled "Eating Education and Community Support: Work-Life Balance Constraints and Support Related to Healthy Dietary Lifestyle."
To submit information to be included in For the Record, write to ud-ocm@udel.edu.
Photo by Evan Krape