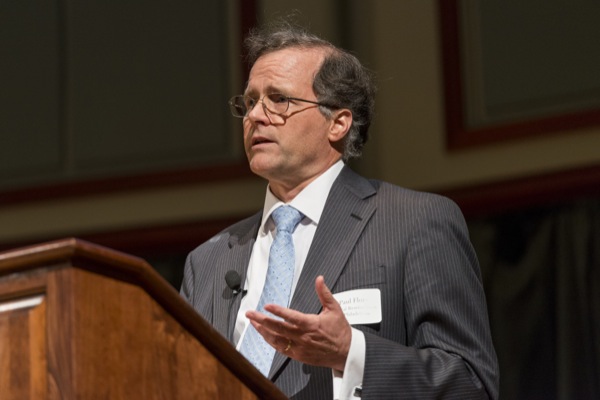 Federal Reserve visits Delaware
Economic analysts from the Federal Reserve study Delaware economy
12:52 p.m., July 8, 2013--A team of economic analysts from the Federal Reserve Bank of Philadelphia recently spent three consecutive days traveling throughout Delaware to gain a better understanding of the state's economy and what drives it.
Another important goal of their visit was to establish long-term relationships with Delaware business leaders and to boost participation in the Federal Reserve's monthly business outlook surveys. To date, Delaware has been underrepresented in their regional economic analyses. The ongoing collection of data will also help bridge the gap between statistical data, which tends to lag, and real time data.
From graduates, faculty
As it neared time for the processional to open the University of Delaware Commencement ceremonies, graduating students and faculty members shared their feelings about what the event means to them.
Doctoral hooding
It was a day of triumph, cheers and collective relief as more than 160 students from 21 nations participated in the University of Delaware's Doctoral Hooding Convocation held Friday morning on The Green.
With support from the University of Delaware's Office of Economic Innovation and Partnerships (OEIP) and the Delaware Economic Development Office (DEDO), the team arranged meetings with the leadership of more than 20 Delaware businesses. Having made new, valuable connections in Delaware, the Philadelphia Fed plans to return and provide annual updates. 
On the second day of their three-day visit, a reception and presentation was held at UD's Roselle Center for the Arts. At the event, Paul Flora, senior economic analyst, and colleagues Elif Sen and Mike Trebing gave their take on historical and current economic trends and prospects for Delaware within a regional and national context. Attendees included Delaware business leaders, UD faculty and staff, public sector officials and various media outlets. 
UD President Patrick T. Harker welcomed the audience and said, "This process of relationship building gives Delaware a stronger presence and voice in the Philadelphia Fed's critical economic analyses, and personalizes the data documenting our economic activity and relative strength." Harker is one of three Class B directors of the Federal Reserve Bank of Philadelphia elected by member banks to represent the public.
Delaware Gov. Jack Markell also spoke at the event. "We need to get better every day, and we don't have a monopoly on good ideas," he said. "When people come from the outside and do the research that the Federal Reserve is doing, really trying to get behind the numbers and understand what is going on, there is a lot that we can learn."
In the presentation, Flora described Delaware as having a history of first-mover advantages — a term used in business to describe the benefits a company realizes when it is the first to enter a new market. First-mover advantages can result in significant gains such as market dominance and exceptional profitability. The establishment of the state's Court of Chancery in 1792 was cited by Flora as a first-mover advantage that Delaware has built on and still enjoys today. Businesses incorporated in the state have access to a vast body of case law that has continued to grow and strengthen for more than 200 years.
"The First State has had a long, successful track record of establishing first-mover advantages over other states. It has embellished that advantage with ongoing legislative action that has spawned strong growth in financial and business sectors," said Flora. The level of access the business community has to state leadership allows Delaware to recognize important changes in the business environment and act on them — something that larger states sometimes find more difficult to do. 
And while Delaware benefits from first-mover advantages, Flora said the state benefits from second-mover advantages as well. Second-mover advantages result when a company watches what others are doing and then tweaks it and does it better.
"The state's incorporation laws were not a first-mover advantage for Delaware. New Jersey passed the first incorporation laws that were attractive to businesses. Delaware followed suit and improved upon the laws," said Flora. "The result was a franchise for Delaware that has been very important and remains important today."
Flora concluded with words of encouragement. "Delaware has an entrepreneurial spirit in business and in the public sector," said Flora. "There is a real sense of getting things done in a pragmatic way. I want to reassure you that things will be OK. Delaware will do well again."
Read more about the Federal Reserve presentation at DelawareOnline.com.
About the Federal Reserve Bank of Philadelphia
The Federal Reserve Bank of Philadelphia helps formulate and implement monetary policy, supervises banks and bank and savings and loan holding companies, and provides financial services to depository institutions and the federal government. It is one of the 12 regional Reserve Banks that, together with the Board of Governors in Washington, D.C., make up the Federal Reserve System. The Philadelphia Federal Reserve Bank serves eastern Pennsylvania, southern New Jersey, and Delaware.
About the Office of Economic Innovation and Partnerships
OEIP is a unit of the University of Delaware. Since its formation in 2008 under the leadership of former DuPont vice president for research and development, David Weir, OEIP has worked with the state of Delaware, Delaware Technology Park, and numerous researchers and companies to create a culture in Delaware where innovation and entrepreneurship can thrive.
About the Delaware Economic Development Office
The Delaware Economic Development Office is an executive state agency responsible for attracting new investors and businesses to the state, promoting the expansion of existing industry, assisting small and minority-owned businesses, promoting and developing tourism and creating new and improved employment opportunities for all citizens of the state.
Article by Laura Gleason
Photo by Evan Krape