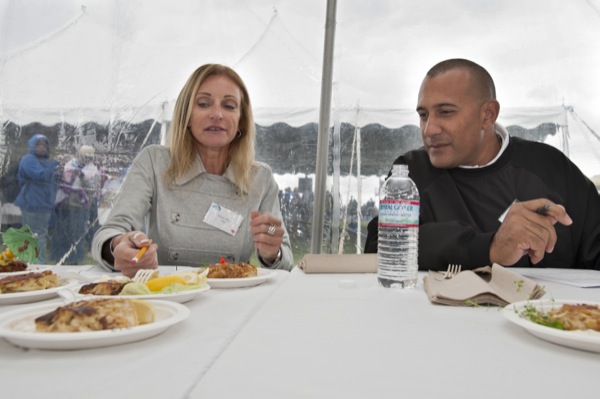 Crab cake test
Become a judge at the Crab Cake Cook-Off by taking an online quiz
9:47 a.m., July 10, 2013--For the second year, the much sought-after position of judge at the annual Coast Day Crab Cake Cook-Off is up for grabs to those who achieve high scores on an online quiz.
"The blue crab trivia contest was a great way to introduce a new judge into the Crab Cake Cook-Off last year," said organizer Doris Hicks, seafood technology specialist for the Delaware Sea Grant College Program. "We expect great results for this year's quiz as well, with one lucky winner chosen from among the top scorers."
From graduates, faculty
As it neared time for the processional to open the University of Delaware Commencement ceremonies, graduating students and faculty members shared their feelings about what the event means to them.
Doctoral hooding
It was a day of triumph, cheers and collective relief as more than 160 students from 21 nations participated in the University of Delaware's Doctoral Hooding Convocation held Friday morning on The Green.
In the past, the only way to earn a judging spot in the Cook-Off was to win the year before. Now last year's winner and the top quiz scorer can judge, giving Cook-Off fans another way to get involved and evaluate some of the best crab cakes in the area.
One additional judge, a culinary expert, will be selected by Hicks to round out the panel of crab cake connoisseurs. 
The 20-question quiz tests scientific knowledge of blue crabs as well as trivia about the Coast Day Crab Cake Cook-Off over the years. Quiz takers need to know — or guess —answers like what a blue crab is called when it molts and popular ingredients in crab cakes. Click here to access the quiz, which is available until Aug. 15. 
Last year's winner and other judges will sample all eight of the entries on Coast Day held on Oct. 6 at the University of Delaware's Hugh R. Sharp campus in Lewes, Del. Judges base their decision on taste, texture, originality and predominance of crabmeat. 
Sponsored by Delaware Sea Grant and the University of Delaware College of Earth, Ocean, and Environment, Coast Day is an annual educational festival and showcase for Delaware's rich marine resources. Blue crabs are an economically important seafood in the state. 
Cook-Off finalists will compete for cash prizes, a plaque and the glory of returning next year as judge. Those entering to cook must submit recipes by Aug. 9.
Article by Annie Birney 
Photo by Evan Krape