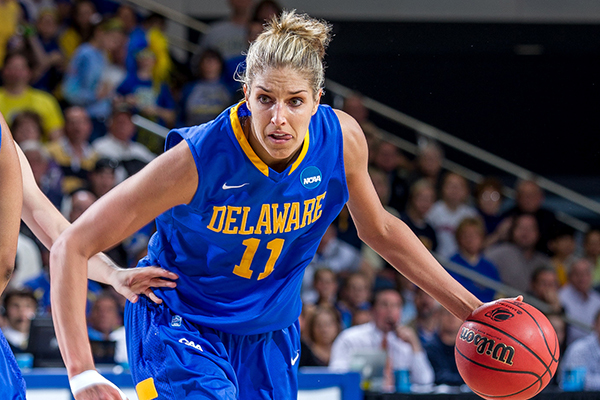 Alumni activities
UD alumni invited to cheer Delle Donne at WNBA game in Seattle
8:50 a.m., July 19, 2013--University of Delaware alumni in the Pacific Northwest are invited to cheer Blue Hens' basketball great Elena Delle Donne at a WNBA game on Thursday, Aug. 15, in Seattle.
Delle Donne and the Chicago Sky will take on the Seattle Storm in a game to be played at 7 p.m. at the Key Arena.
'Resilience Engineering'
The University of Delaware's Nii Attoh-Okine recently published a new book with Cambridge University Press, "Resilience Engineering: Models and Analysis."
Reviresco June run
UD ROTC cadets will run from New York City to Miami this month to raise awareness about veterans' affairs.
There will be a pre-game reception beginning at 5:30 at Buckley's, 232 1st Ave. W.
For details, click here.
After a victory July 18, the Sky was 11-4 and in first place in the WNBA's East Conference. Delle Donne was among the league leaders with 19.1 points and 1.64 blocks per game.
Additional alumni activities are as follows:
Saturday, Aug. 3, 1 p.m.: New student send-off in Pittsburgh. Alumni will welcome incoming freshmen and new UD graduates during a picnic.
Saturday, Aug. 3, 5:30 p.m.: Baltimore Blue Hens. A crab feast honoring incoming freshmen from Baltimore and new UD graduates moving to the city will be held at Oregon Ridge State Park.
Saturday, Aug. 3, 6:35 p.m.: Baseball series: Salisbury. The alumni summer baseball series continues at Arthur Perdue Stadium in Salisbury, Md., home of the Delmarva Shorebirds. There will be a buffet and fireworks.
Saturday, Aug. 10, 2 p.m.: Alumni Day at Dewey Beach. For the fifth year, Blue Hens can enjoy UD Alumni Day in Dewey Beach, where there will be food, music and prizes.
Sunday, Aug. 11, 11 a.m.: Baseball series: San Francisco. Alumni will gather at AT&T Park in San Francisco for a baseball game between the Giants and the Baltimore Orioles. There also will be brunch at Ironside.
Sunday, Aug. 11, 3 p.m.: New student send-off in Philadelphia. Alumni, students and families are invited to Bourbon Blue to send off freshmen in the Class of 2017.
Thursday, Aug. 15, 6 p.m.: Baseball series: Richmond. Alumni can bring the whole family to Richmond's Diamond to cheer on the Flying Squirrels and enjoy a picnic dinner and free access to the HCA Kid's Zone.
Sunday, Aug. 18, 3:30 p.m.: Baseball series: Long Island. Blue Hens are invited to a day at Bethpage Ballpark in Islip, N.Y., to cheer on the 2012 Atlantic League champions, the Long Island Ducks. Alumni can come early to enjoy a picnic buffet.
The Office of Alumni Relations recognizes and thanks the UD Alumni Association for its support of several of these events.