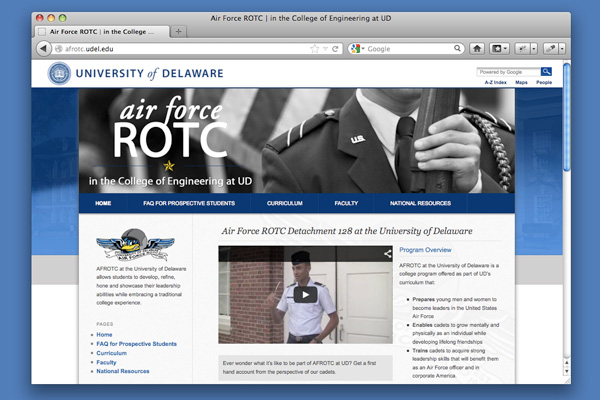 AFROTC website relaunch
WordPress-built site refreshes AFROTC image, simplifies updates
8:29 a.m., July 8, 2013--The University of Delaware's Air Force Reserve Office Training Corps (AFROTC) program debuted its new website July 3, presenting prospective cadets and current students with a modern, user-friendly design.
Built with WordPress, an open source web-publishing tool, the website features administrative tools that allow for easier updates and an enhanced user-experience. Additionally, a responsive framework built into its templates allows WordPress to automatically optimize the site's layout for various devices and screen sizes.
June 6: UDid It! Picnic
All UD faculty and staff members are invited to attend the annual UDid It! employee appreciation picnic, set from 11 a.m.-1:30 p.m., Monday, June 6, on The Green.
2FA protects you
If you are using two-factor authentication (2FA), even if a hacker has your password, your information is probably safe.
Aimed at attracting new students, the site features a frequently asked questions section, curriculum description and a cadet-produced welcome video to encourage interest in the program.
"The main purpose for our redesign was to remain relevant and to have a competitive website," said Capt. Michael Rajchel, commandant of cadets and assistant professor of aerospace studies. "Our previous site had become more complex and required greater maintenance and time. The updated website, which is based on newer and more efficient technology, yields better results."
"I have been championing WordPress in engineering because it provides users with an easy-to-use system that allows frequent content updates with fewer hassles, and it is well-supported by UD-IT," said Maria Fargo, web developer for the College of Engineering, who spearheaded the AFROTC migration.
Rajchel also applauded the software's ability to replicate design elements available in Dreamweaver and said that faculty and staff, even departments, interested in managing their own web content should consider WordPress as a simple and easy alternative to other web editing applications. 
"WordPress makes updating our site extremely easy," said Rajchel. "It consolidates many services and elements of the site and saves time in the long run for the webmaster." Other benefits include a media library, a built-in blogging tool and a WYSIWYG (what you see is what you get) page editor.
UD faculty, staff or students interested in using WordPress should consult this website.
Article by Levi Sikes