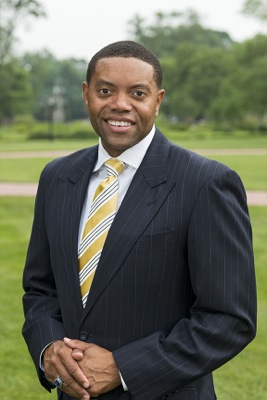 Government relations
Rick Deadwyler Jr. named UD's director of government relations
4:15 p.m., July 18, 2013--Rick Deadwyler Jr., who worked for the past eight years as the state affairs manager for DuPont Government Affairs' U.S. Mid-Atlantic Region, which includes the state of Delaware, has been named director of government relations at the University of Delaware, effective Aug. 1, Jeffrey W. Garland, vice president and University secretary at UD, has announced. 
In his new role, Deadwyler, a UD alumnus, will serve as the University's primary point of contact for state and local government officials, constituent groups and business leaders, promoting UD's mission and goals. 
'Resilience Engineering'
The University of Delaware's Nii Attoh-Okine recently published a new book with Cambridge University Press, "Resilience Engineering: Models and Analysis."
Reviresco June run
UD ROTC cadets will run from New York City to Miami this month to raise awareness about veterans' affairs.
"Rick Deadwyler's broad range of experience in the corporate world and government—combined with his Delaware roots and ties to the University—will serve him well in this important role at UD," Garland said. "I know Rick will make a great addition to our team."
At DuPont, Deadwyler has been responsible for advocating for key public policy positions, pursuing business development opportunities, maintaining relationships with government officials and key community leaders, and providing leadership on various trade associations and industry boards.
Previously at DuPont, he served as corporate contribution officer, where he engaged corporate and community leaders in the company's tradition of philanthropic support. 
"Rick's work ethic, personality and commitment to delivering results made him a significant contributor in various roles within DuPont," said Barry Granger, DuPont vice president of government marketing and government affairs.  
"Given DuPont's strong and long-standing ties to the University of Delaware, I am certain we will enjoy many opportunities to collaborate with Rick on key public policy issues of importance to the University, our company and the state of Delaware. We are excited for Rick and his new opportunity, and we are confident he will do a great job for UD," said Granger.  
Before joining DuPont, Deadwyler served as community relations director at the Delaware River and Bay Authority and held positions with the state of Delaware in education administration and juvenile justice leadership. 
A native of Wilmington, Del., Deadwyler was graduated from The Tatnall School. He earned his bachelor's degree in sociology from the University of Delaware in 1993. At UD, he was a member and co-captain of the men's basketball team, which earned two North Atlantic Conference Championships and competed in two NCAA National Tournaments in 1992 and 1993.
In 2000, he received his master's degree in elementary education from Wilmington University. 
Deadwyler has volunteered with numerous organizations committed to the Delaware community, particularly those focusing on community development and re-directing the lives of Delaware's youth. 
In 2008, he was recognized by the Network Journal, a national publication focused on the black business community, as one of its "Top 40 under 40" black professionals, and Delaware Today Magazine named him one of Delaware's "Most Influential People Under 40" in 2009. 
He lives in Newark with his wife, Yvonne, and their three sons. 
Photo by Evan Krape