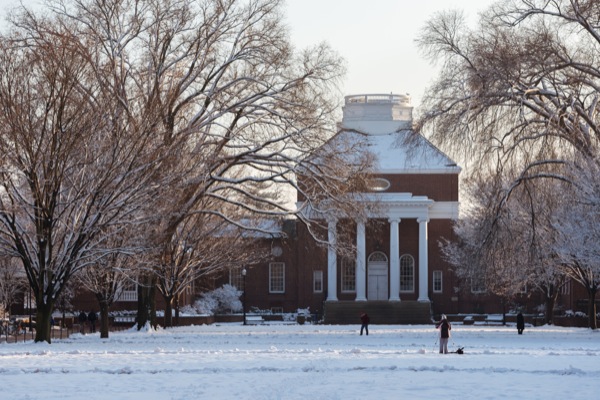 Weather-related closings
UD offers options for information on weather-related closings
2:35 p.m., Jan. 15, 2014--When severe weather strikes the Delaware Valley, University of Delaware employees and students have several options to find out if there are late openings, early closings or cancellations at the University.
Information on closings or late openings will be available on the UD home page and on UDaily as soon as possible after a decision has been reached.
June 6: UDid It! Picnic
All UD faculty and staff members are invited to attend the annual UDid It! employee appreciation picnic, set from 11 a.m.-1:30 p.m., Monday, June 6, on The Green.
2FA protects you
If you are using two-factor authentication (2FA), even if a hacker has your password, your information is probably safe.
News also will be available through the UD telephone information line at 302-831-2000.
Information also will be shared with the state Department of Education's School Closings and Delays website. 
Members of the campus community should not call UD Police so that telephone lines there can remain open for emergency calls.
UD Policy
The University Policy and Procedures Manual includes a section dealing with personal safety considerations for faculty and students. Please note the policy, which is reprinted here:
Faculty and students are not expected to take unnecessary risks to meet their teaching and learning obligations due to inclement weather. When classes have not been canceled, it is a matter of personal judgment whether traveling to campus is hazardous. Faculty should notify their departmental offices when weather precludes them from meeting their teaching obligations; similarly, students should notify their professors when inclement weather precludes them from class attendance. In such cases, students should be allowed to make up missed class time and, whenever possible, canceled classes should be rescheduled.
Photo by Evan Krape