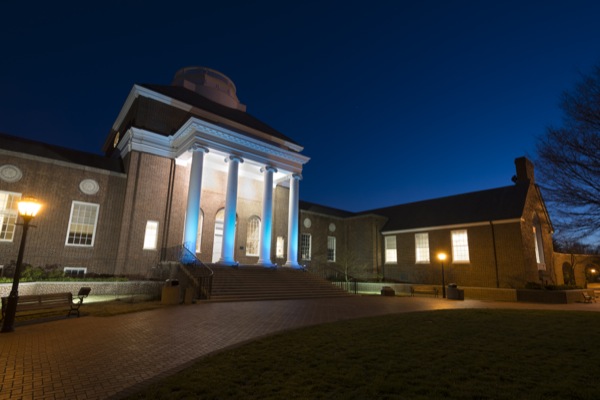 UD a 'best value'
University of Delaware among 'best value colleges' selected by Princeton Review
1:06 p.m., Jan. 28, 2014--The University of Delaware has been named one of the 75 "best value" public institutions of higher education in an annual list released Tuesday by The Princeton Review.
The 2014 list identifies 150 colleges -- 75 public and 75 private -- that The Princeton Review designates as "best values" based on assessments that examined more than 30 data points covering academics, cost and financial aid.
From graduates, faculty
As it neared time for the processional to open the University of Delaware Commencement ceremonies, graduating students and faculty members shared their feelings about what the event means to them.
Doctoral hooding
It was a day of triumph, cheers and collective relief as more than 160 students from 21 nations participated in the University of Delaware's Doctoral Hooding Convocation held Friday morning on The Green.
The organization chose the 150 schools from among 2,000 colleges and universities at which it conducted institutional and student surveys in 2012-13.
Students love UD, The Princeton Review report notes, because it offers "the perfect balance of academic intensity and excellent social life."
It cites UD's "series of signature academic programs, where students rave about the 'challenging classes and friendly professors.'" Programs cited include service learning, study abroad, undergraduate research opportunities, the First Year Experience and the Honors Program, which it calls "the intellectual pearl of the University."
While The Princeton Review does not rank its 150 "best value" colleges overall, it reports the top 10 schools in each group. The University of North Carolina, Chapel Hill, tops the list for public colleges and Williams College for private colleges.
The Princeton Review list can be found online, and USA Today also has posted an exclusive interactive database. There is also a companion book, The Best Value Colleges: The 150 Best-Buy Schools and What It Takes to Get In, which is now available.
"We commend the University of Delaware and all of our 'Best Value Colleges' for their outstanding academics. Equally impressive are their efforts to be affordable to students with need – either via comparatively low sticker prices, generous financial aid, or both," said Robert Franek, Princeton Review's senior vice president and publisher.
In a section titled "The Bottom Line," it is noted that "the cost of attending the University of Delaware is comparatively cheap, especially if you are from Delaware." The section highlights UD's Commitment to Delawareans, which "works to make a UD education affordable to all qualified state residents."
Earlier, it was announced that Kiplinger's Personal Finance magazine had named UD a best value.
Photo by Evan Krape