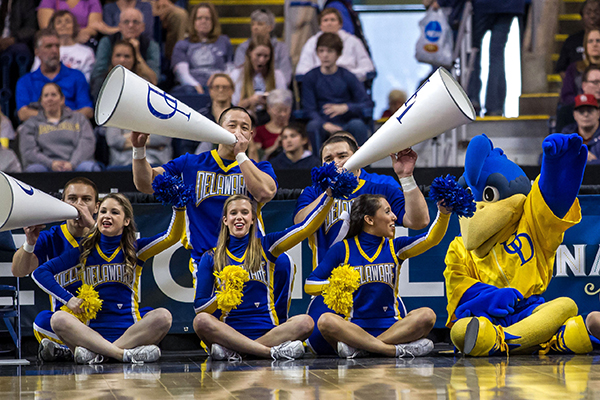 Jan. 14: Spirit send-off
UD spirit teams to perform national competition routines at CSB
3:02 p.m., Jan. 7, 2014--The University of Delaware cheerleaders, dance team and beloved mascot YoUDee will be featured in a national spirit championships send-off event to be held at 6 p.m., Tuesday, Jan. 14, in Gym 1 in the Carpenter Sports Building.
The teams are training to compete in the Universal Cheerleaders Association (UCA) and Universal Dance Association (UDA) national cheerleading and dance championships to be held Jan. 17-19 at Walt Disney World Resort in Orlando, Fla. A live feed throughout the competition can be found at varsity.com.
June 5: Blue Hen 5K
University of Delaware graduates planning to attend Alumni Weekend are encouraged to register for the annual Blue Hen 5K walk and run, which will be held Sunday morning, June 5.
June 6-9: Food and culture series
The 20th annual June Lecture Series at the Osher Lifelong Learning Institute at UD in Wilmington will be held June 6-9. Titled 'June a la Carte,' this year's program focuses on great political documents, feminism, world politics and a Newark cuisine sampler.
Members of the cheerleading and dance teams will proudly don their blue and gold to show off national competition routines at the send-off event. In the last national championships, the cheerleaders finished second in Division I and sixth in the world university cheerleading championship's large coed division and the dance team took fourth and fifth place honors, respectively, in Division I hip hop and jazz competitions.
Incomplete without the animated and award-winning Fightin' Blue Hens mascot, the event will also feature YoUDee. After receiving a first place bid in the mascot open division for the 2014 Universal Cheerleaders Association College Mascot National Championship, YoUDee, three-time reigning champion, will compete to maintain its title alongside the rest of UD's decorated spirit squad.
The doors of the Carpenter Sports Building will open at 5:30 p.m.
Article by Nicole Sullivan
Photo by Mark Campbell