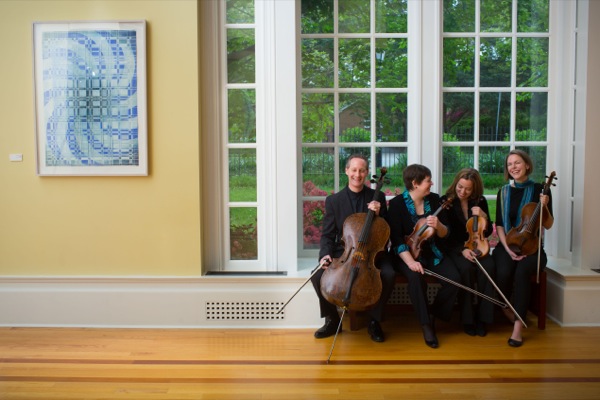 Top 10
Album by Serafin String Quartet, UD ensemble-in-residence, honored
3:03 p.m., Jan. 3, 2014--A new recording by the Serafin String Quartet, ensemble-in-residence at the University of Delaware, has been named one of the top 10 classical albums of 2013 by Philadelphia's City Paper. 
The CD features the world premiere of Grammy and Pulitzer Prize-winning composer Jennifer Higdon's early chamber works, and the paper refers to the disc as an "excellently performed selection."
National Medal of Science
President Barack Obama recently presented the National Medal of Science to University of Delaware alumnus Rakesh Jain.
Warren Award
Rosalind Johnson, assistant dean for student success in the NUCLEUS Program in UD's College of Arts and Sciences, was presented the John Warren Excellence in Leadership and Service Award during a May 26 ceremony.
The CD, which was released in July 2013, has received positive acclaim from numerous industry publications, including accolades from Gramophone Magazine, Fanfare Magazine, and Classical Lost and Found, which praised its "spot-on intonation, attention to rhythmic detail, superb sense of phrasing, and rich ensemble sound." 
The CD, titled Jennifer Higdon: Early Chamber Works, can be found on both Amazon and iTunes. 
As UD's ensemble-in-residence, the Serafin String Quartet performs public concerts, provides student coaching, presents chamber music master classes and collaborates with faculty.