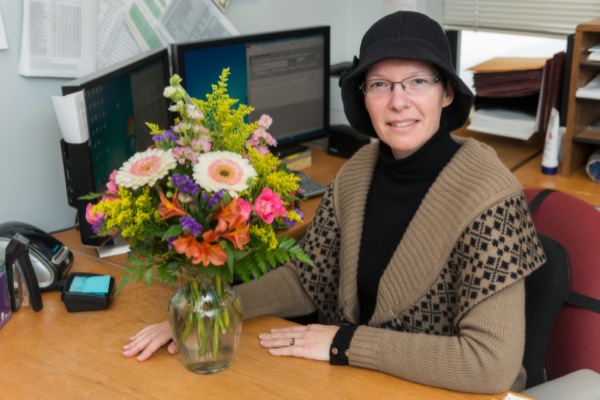 HR liaison honors
CCM's Hamed named Human Resources Liaison of Quarter
10:08 a.m., Jan. 29, 2014--Corinne Hamed, administrative assistant in the Center for Composite Materials, has been named the University of Delaware's Human Resources Liaison of the Quarter for the fourth quarter of 2013.
The award identifies and recognizes an outstanding performer within the HR liaison community for the preceding quarter.
June 6: UDid It! Picnic
All UD faculty and staff members are invited to attend the annual UDid It! employee appreciation picnic, set from 11 a.m.-1:30 p.m., Monday, June 6, on The Green.
2FA protects you
If you are using two-factor authentication (2FA), even if a hacker has your password, your information is probably safe.
John Gillespie, director of the Center for Composite Materials (CCM), said Hamed provides tremendous support to a staff of more than 200 people, including affiliated faculty, professional, technical and administrative staff, post-doctoral researchers, graduate and undergraduate students, guests and interns from around the world.
"Corrine is dedicated and committed to helping everyone with their HR questions," Gillespie said. "Everyone who has worked with Corrine has nothing but praise and respect for her help, and it is also my observation that she works very well with her HR colleagues across campus and doesn't hesitate to request help or offer assistance." 
Dirk Heider, assistant director of CCM, lauded Hamed as performing her required duties, being approachable and having the positive spirit needed to work with a diverse group of individuals.
"Corinne's commitment to provide the right customer service experience is unchallenged," Heider said. "She creates an environment where students, colleagues and supervisors all feel comfortable working together."
Douglas Tobias, business administrator in the Department of History, said, "Even those of us who do not work in the College of Engineering are aware of Corinne's impressive knowledge of HR policies and procedures and her willingness to help others." 
Bazle Anwer Gama, senior scientist in CCM, said, "Corinne has years of experience handling diverse human resources-related issues for a diverse group of people. Everybody admires her way of helping on individual problems related not only to HR, but also in other areas like procurement."
Joseph M. Deitzel, scientist in CCM, noted that "Corinne is confronted daily with myriad challenges and consistently exceeds the expectations of  the position." 
Therese Stratton, business administrator, CCM, said Hamed is the go-to person at CCM, working tirelessly to get people the HR answers they need.
"Corinne takes the initiative to review all administrative tasks, always looking for ways for continuous improvement," Stratton said. "She gets things done."
Hamed, who also manages the daily operations of CCM and its Industrial Affiliates Program, said she was humbled to be recognized for doing a job she enjoys.
"In the 14 years I have been at CCM, I have always loved my job and look forward to coming to work," Hamed said. "Nothing is perfect, but when you have the support from your management team and work with kind and respectful people, it makes 'loving' your job so easy." 
Article by Jerry Rhodes
Photo by Evan Krape