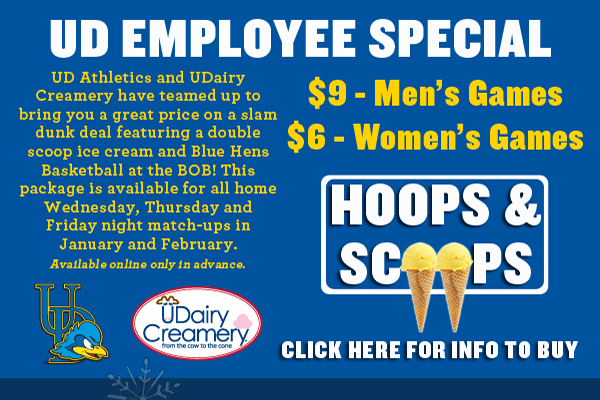 Basketball packages
UD announces special employee Hoops and Scoops packages for basketball games
9:38 a.m., Jan. 7, 2014--University of Delaware Athletics and the UDairy Creamery have announced that special employee Hoops and Scoops basketball game packages are available this month.
The package features a double scoop of UDairy Creamery ice cream and a basketball game, with the package priced at $9 for men's home games and $6 for women's games.
June 6: UDid It! Picnic
All UD faculty and staff members are invited to attend the annual UDid It! employee appreciation picnic, set from 11 a.m.-1:30 p.m., Monday, June 6, on The Green.
2FA protects you
If you are using two-factor authentication (2FA), even if a hacker has your password, your information is probably safe.
The packages are available for all home games Wednesday, Thursday and Friday nights in January and February.
The next Hoops and Scoops games at the Bob Carpenter Center will be Wednesday, Jan. 8, when the men's team hosts Hofstra University and Friday, Jan. 17, when the women's team faces the University of North Carolina, Wilmington. Game time is 7 p.m.
For details or to order tickets, click here.