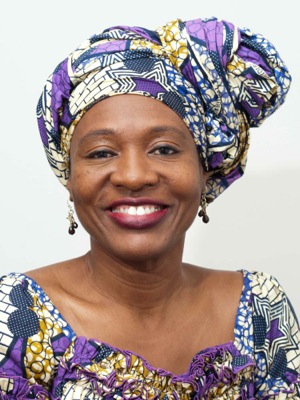 Feb. 19-April 30: Global Agenda
Spring speaker series to consider 'Global Demands, Regional Responses'
1:29 p.m., Jan. 16, 2014--The University of Delaware Center for Global and Area Studies will present the spring Global Agenda speaker series on Wednesdays, starting Feb.19 and continuing through April 30.
The theme of this year's series is "Global Demands, Regional Responses" and among the guest speakers is the British ambassador to the United States, Peter Westmacott.
Fulbright awards
Three University of Delaware students and an alumna have received word this spring that they will travel abroad as part of the newest class of Fulbright Student Program award winners.
Peace Corps plans
Two University of Delaware students, John McCarron and Bridgette Spritz, have been selected as Peace Corps volunteers and will serve in Ghana and Rwanda.
The spring 2014 series is directed and moderated by Julio Carrión, director of the Center for Global and Area Studies and professor of political science and international relations.
In addition to being free and open to the public, this speaker series is also linked to a three-credit academic course (POSC 444/COMM 444) in which students will have the opportunity to meet and have dinner with the speakers before their public engagements.
The public speaker sessions will be held at 7:30 p.m. in Mitchell Hall.
The opening speaker in the series on Wednesday, Feb. 19, will be Emira Woods, co-director of Foreign Policy In Focus with the Institute for Policy Studies in Washington, D.C. With extensive knowledge in U.S.-Africa relations and developing countries, Woods has been interviewed on BBC, CNN and other television networks on topics such as Liberia, Darfur and foreign aid. Her published work can be found in The Nation, the Baltimore Sun, and the Christian Science Monitor. 
The series will continue as follows:
Wednesday, March 5 – Richard Wike, director of the Global Attitudes Project with the Pew Research Center. A writer and researcher of international public opinion, Wike has studied numerous countries such as China, Pakistan and Egypt. He has also authored Global Attitudes Project releases, featuring topics such as the Arab Spring, global social networking, and the image of the U.S.
Wednesday, March 12 – Danya Greenfield, acting director of Rafik Hariri Center for the Middle East in the Atlantic Council. Specializing in democracy and governance, Greenfield oversees the Yemen Policy Initiative and writes about Yemen, Jordan, Egypt and U.S. aid to Arab nations. 
Wednesday, March 26 –Peter Westmacott, British ambassador to the United States. Westmacott previously served as ambassador to France and Turkey, as well as the British Embassy's counselor for political and public affairs. His 40-year career in the British Diplomatic Service has included postings in Tehran and Brussels, a position as the Foreign and Commonwealth Office's director for the Americas, and board member of the Foreign Office as deputy under secretary. 
Wednesday, April 23 – Susan Shirk, former deputy assistant Secretary of State, Bureau of East Asia and Pacific Affairs. Shirk now serves as the chair of the 21st Century China Program and Ho Miu Lam Professor of China and Pacific Relations at the School of International Relations and Pacific Studies (IR/PS) at the University of California, San Diego. She also is director emeritus of the University of California Institute on Global Conflict and Cooperation (IGCC), and chair of the IGCC International Advisory Board.
Wednesday, April 30 – Michael Reid, Americas editor with The Economist. Before serving as London's Americas editor for The Economist, Reid worked as the publication's Mexico and Central America correspondent, covered consumer industries, and served as the bureau chief in Sao Paulo. His book Forgotten Continent: The Battle for Latin America's Soul was published by Yale University Press in November 2007.