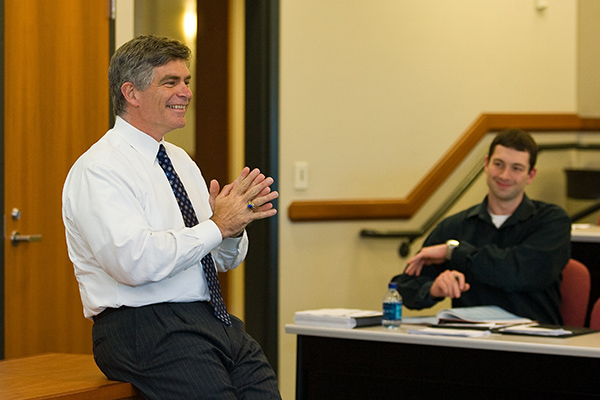 Alumni activities
South Florida alumni set reception featuring President Harker
9:17 a.m., Jan. 24, 2014--University of Delaware alumni and friends are invited to attend a special reception featuring President Patrick Harker on Thursday, Feb. 13, in Fort Lauderdale, Fla.
Hosted by the South Florida Alumni Club, the event will be held from 6:30-9 p.m. at the Westin Fort Lauderdale, 400 Corporate Drive.
'Resilience Engineering'
The University of Delaware's Nii Attoh-Okine recently published a new book with Cambridge University Press, "Resilience Engineering: Models and Analysis."
Reviresco June run
UD ROTC cadets will run from New York City to Miami this month to raise awareness about veterans' affairs.
Harker will provide insights into what is happening on campus, in the classroom and beyond.
For details, see the website.
Other activities are scheduled as follows:
Thursday, Jan. 30, 5 p.m.: Ice skating in Philadelphia. A happy hour with light fare will be held at the Philadelphia Bar and Restaurant on Market Street, with ice skating to follow at the Blue Cross River Rink on Columbus Boulevard.
Wednesday, Feb. 5, 6:30 p.m.: D.C. town hall meeting. Alumni in Washington, D.C., will gather for the annual town hall meeting to be held at the Brookings Institution. The meeting will feature an open discussion for feedback on the alumni club's events and programs.
Thursday, Feb. 6, 6:30 p.m.: Virginia Museum of Fine Arts tour. Kathy Gillis, a UD alumna and director of conservation at the Virginia Museum of Fine Arts, will host an exclusive "behind the scenes" tour of the museum for Richmond alumni. The tour will be followed by access to the museum's latest special exhibit, "Hollywood Costume."
Saturday, Feb. 8, noon: North Jersey bowling. Northern New Jersey alumni will gather for bowling at Plaza Lanes in Morristown. For $5, alumni will get shoe rental, two hours of bowling, and pizza or other snacks.
Saturday, Feb. 8, 2 p.m.: Baltimore Brewer's Art tasting, tour. Alumni are invited to a tasting and tour at Brewer's Art on Charles Street in Baltimore. Cost of $15 includes a tour of the brewery, beer tastings and complimentary appletizers.
Friday, Feb. 14, 5 p.m.: Valentine's 'Fire and Ice' in Lititz. UD alumni in the Lancaster, Pa., region are invited to enjoy the Lititz Fire and Ice Festival, meeting at Café Chocolate. The festival block party features music, vendors and amazing ice sculptures.
Wednesday, Feb. 19, 5:30 p.m.: Art history lecture series. Annemarie Weyl Carr will discuss "A Byzantine Icon in the Age of Enlightenment: St. Luke and the Kykkotissa" during an Art History Graduate Student Lecture Series presentation in 116 Gore Hall on the UD campus in Newark.
Thursday, Feb. 20, 5:30 p.m.: Chicago happy hour. Blue Hens in Chicago will enjoy happy hour at the Bub City Bar.
Friday, Feb. 21, 5:30 p.m.: Reading interest session. Alumni in the Reading, Pa., area will hold a happy hour and interest session at the Viva Bistro and Lounge on Hill Avenue. Cost is $5. There will be light appetizers and live music.
Wednesday, Feb. 26, 6:30 p.m.: Ocean Sciences Meeting reception. UD's College of Earth, Ocean, and Environment will host a special event for CEOE alumni, faculty and students during the 2014 Ocean Sciences Meeting in Hawaii. CEOE Dean Nancy Targett will host the reception.
Wednesday, March 5, 5 p.m.: Philadelphia happy hour. Philadelphia Blue Hens will hold happy hour upstairs at the Black Sheep.
Tuesday, March 11, 5 p.m.: Philadelphia ice hockey. Alumni are invited to join Philadelphia area alumni as the Flyers host the New Jersey Devils in an NHL game at the Wells Fargo Center. Meet before the game at McFadden's at the Ballpark for complimentary appetizers and drink specials.
Wednesday, March 12, 4 p.m.: Art history grad student research. Alumni are invited to attend an evening of original research by UD art history graduate students. The presentations will be moderated by Camara Holloway, assistant professor of art history.
Sunday, April 6, 1 p.m.: Grape to plate. Blue Hens in the Reading, Pa., area are invited to a wine trail and culinary adventure at the Pinnacle Ridge Winery in Kutztown.
Wednesday, April 9, 5:30 p.m.: Art history lecture. Alumni are invited to attend a presentation in the Art History Graduate Student Lecture Series. Christiane Gruber will speak on the topic "Prophetic Products: The Prophet Muhammad in Contemporary Iranian Visual Culture."
Wednesday, May 7, 6:30 p.m.: Art history lecture. Alumni are invited to attend a presentation in the Art History Graduate Student Lecture Series. This will be the annual Wayne Craven Lecture, and S. Hollis Clayson will speak on "Episodes from the Visual Culture of Electric Paris."
Photo by Kevin Quinlan