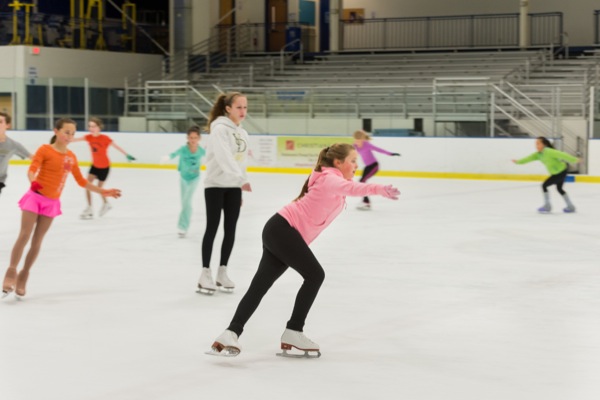 Alumni activities
University alumni gather for ice skating, club board meetings
10:03 a.m., Jan. 10, 2014--Fitting for the winter months, a variety of ice-related activities have been scheduled by University of Delaware alumni clubs.
There will be ice skating in Pittsburgh and Philadelphia, and an NHL game in Florida.
'Resilience Engineering'
The University of Delaware's Nii Attoh-Okine recently published a new book with Cambridge University Press, "Resilience Engineering: Models and Analysis."
Reviresco June run
UD ROTC cadets will run from New York City to Miami this month to raise awareness about veterans' affairs.
In addition, a number of alumni clubs are holding open board meetings at which to meet and hear from fellow Blue Hens.
Activities in coming weeks are scheduled as follows:
Monday, Jan. 13, 6 p.m.: New Castle County board meeting. The New Castle County Alumni Club will hold its annual open board meeting at McGlynn's Pub in Peoples Plaza, with a happy hour to follow. Meet the New County County Alumni Club board members and share ideas about what the club can do in 2014.
Tuesday, Jan. 14, 6 p.m.: Boston board meeting. The Boston Alumni Club will hold an open board meeting, to be followed by a "winter warmer" happy hour at Sterlings in Faneuil Hall.
Wednesday, Jan. 15, 7 p.m.: Zog dodgeball in Hoboken. The Northern New Jersey Alumni Club will offer Zog dodgeball in Hoboken, with area Blue Hens invited to participate on a UD alumni dodgeball team. Happy hour will follow each game.
Thursday, Jan. 16, 6:30 p.m.: Dinner in D.C. The Washington, D.C., Alumni Club will hold its monthly meet-up for Blue Hen foodies at Marrakesh.
Saturday, Jan. 18, 1 p.m.: Ice skating in Pittsburgh. UD alumni in the Pittsburgh area are invited to ice skating and lunch at the Rink at PPG Place. Cost of $5 includes lunch, admission and skate rental.
Friday, Jan. 24, 6:30 p.m.: South Florida ice hockey. Blue Hens in south Florida are invited to an NHL ice hockey game between the Florida Panthers and the Colorado Avalanche at the BB&T Center in Sunrise, Fla. There will be a pre-game buffet and refreshments from Duffy's Sky Club before heading to the suite to watch the action on the ice.
Saturday, Jan. 25, 11:30 a.m.: National Gallery's French Collection. A tour of the National Gallery of Art's French Collection will be held for alumni in Washington, D.C. The tour is free but advance registration is required.
Sunday, Jan. 26, 2 p.m.: 'Bocce and Brats' in Seattle. UD alumni in Seattle are invited to "Blue Hen Bocce and Brats" at Von Trapps. A bocce court will be reserved.
Thursday, Jan. 30, 5 p.m.: Ice skating in Philadelphia. A happy hour with light fare will be held at the Philadelphia Bar and Restaurant on Market Street, with ice skating to follow at the Blue Cross River Rink on Columbus Boulevard.
Wednesday, Feb. 5, 6:30 p.m.: D.C. town hall meeting. Alumni in Washington, D.C., will gather for the annual town hall meeting to be held at the Brookings Institution. The meeting will feature an open discussion for feedback on the alumni club's events and programs.
Saturday, Feb. 8, 2 p.m.: Baltimore Brewer's Art tasting, tour. Alumni are invited to a tasting and tour at Brewer's Art on Charles Street in Baltimore. Cost of $15 includes a tour of the brewery, beer tastings and complimentary appletizers.
Friday, Feb. 14, 5 p.m.: Valentine's 'Fire and Ice' in Lititz. UD alumni in the Lancaster, Pa., region are invited to enjoy the Lititz Fire and Ice Festival, meeting at Café Chocolate. The festival block party features music, vendors and amazing ice sculptures.
Wednesday, Feb. 19, 5:30 p.m.: Art history lecture series. Annemarie Weyl Carr will discuss "A Byzantine Icon in the Age of Enlightenment: St. Luke and the Kykkotissa" during an Art History Graduate Student Lecture Series presentation in 116 Gore Hall on the UD campus in Newark.
Friday, Feb. 21, 5:30 p.m.: Reading interest session. Alumni in the Reading, Pa., area will hold a happy hour and interest session at the Viva Bistro and Lounge on Hill Avenue. Cost is $5. There will be light appetizers and live music.
Photo by Evan Krape