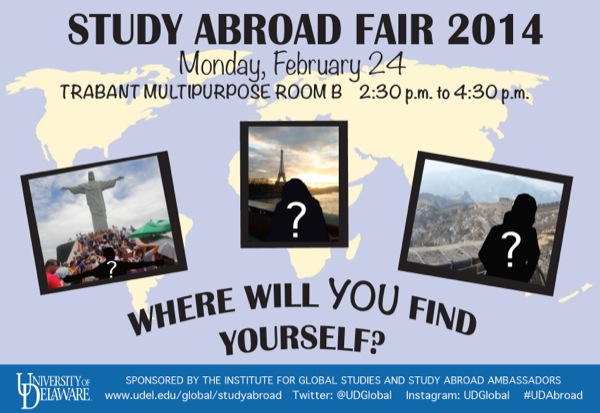 Feb. 24: Study Abroad Fair
Inaugural Study Abroad Fair to offer information on global opportunities
9:06 a.m., Feb. 12, 2014--The University of Delaware invites students to find their passion in Peru, their spirit of adventure in South Africa, or their independence in Italy at the inaugural Study Abroad Fair to be held from 2:30-4:30 p.m., Monday, Feb. 24, in Multipurpose Room B of the Trabant University Center.
Faculty members and program coordinators representing dozens of study abroad programs will be present at the fair. In addition, representatives from the Institute for Global Studies and Student Financial Services will also be available to answer questions regarding scholarships and affordability of programs. UD Alternative Breaks and the Center for Global and Area Studies will also be available to answer questions.
Fulbright awards
Three University of Delaware students and an alumna have received word this spring that they will travel abroad as part of the newest class of Fulbright Student Program award winners.
Peace Corps plans
Two University of Delaware students, John McCarron and Bridgette Spritz, have been selected as Peace Corps volunteers and will serve in Ghana and Rwanda.
The theme of the fair is "Where Will You Find Yourself?" and it speaks to the self-discovery and independence students realize while studying abroad.
During the two-hour event, students will also discover if a semester-long, Winter Session, summer session or three-week UDMicromester option is best for them.  
There will be a hot chocolate bar and inspirational treats for all who attend. Students can enter to win a suitcase with a mystery prize inside. 
To save time while at the fair, students are encouraged to download a QR Reader on their iPhone or Android before arrival to register for the prize.
Study Abroad Ambassadors, UD students who share a passion for study abroad, will be also available to discuss their experiences.
All UD students who have previously studied abroad are being asked to show their pride on Monday, Feb. 24, by wearing a T-shirt or other clothing item that represents countries in which they have studied.
UD's study abroad program recently celebrated its 90th anniversary of sending students abroad. Widely regarded as the first study abroad program in the U.S., the University sends more than 30 percent of its students abroad to earn college credits, acquire smart skills for the job market, gain new insights and perspectives, and develop a healthy dose of self-confidence.
During this year's Winter Session, more than 1,000 UD students traveled to 24 different countries as part of 50 different international and domestic programs spanning 39 academic subjects. To share their experiences, students posted images, stories and more with the hashtag #UDAbroad. Check out their pictures and posts on the winter 2014 study abroad Storify page here.
The fair is sponsored by the Institute for Global Studies and Study Abroad Ambassadors. For more information about study abroad programs, visit the website. 
Those who are interested can follow all things global on Instagram and Twitter and find more fair details here.