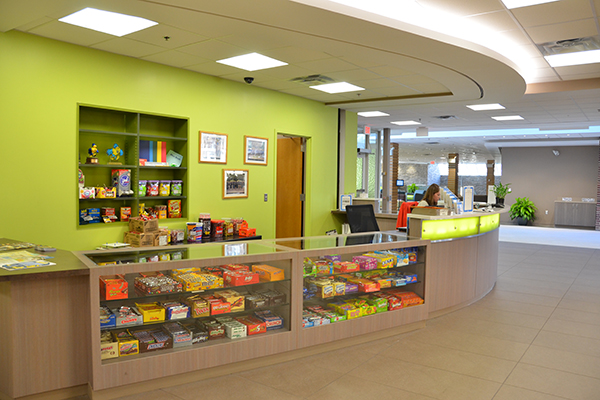 Special snacks
USC information desks offer snacks for guests with dietary needs
12:55 p.m., Feb. 5, 2014--New signage posted at the information desks in the University of Delaware's Perkins Student Center and Trabant University Center enable guests with dietary needs to find snacks they can enjoy. 
All snacks certified by their manufacturers to be gluten-free, kosher, vegan or nut-free are now denoted on signs posted at each desk. 
From graduates, faculty
As it neared time for the processional to open the University of Delaware Commencement ceremonies, graduating students and faculty members shared their feelings about what the event means to them.
Doctoral hooding
It was a day of triumph, cheers and collective relief as more than 160 students from 21 nations participated in the University of Delaware's Doctoral Hooding Convocation held Friday morning on The Green.
Though the signs will be updated annually, patrons are encouraged to check the websites provided and/or individual packaging with any questions.
"The USC has long offered a wide variety of snacks and convenience items for purchase," said Gil Johnson, University Student Centers associate director for event services. "As more manufacturers commit to making products that are safe for those with dietary needs, we too are able to better inform and better serve our guests."
Available items at both desks include:
Gluten-free: Most items made by Tootsie Roll Industries such as Dots, Blow Pops, Junior Mints, Sugar Babies/Daddies and Tootsie Rolls/Pops are gluten-free. The Hershey Company also certifies many of its most popular items as gluten-free: Milk Chocolate, Milk Chocolate with Almonds, Reese's Peanut Butter Cups, and York Peppermint Patties.
Kosher: Offerings include most Hershey Company products as well as Dove Chocolate products, Keebler's crackers, Planters Nuts and Chocolate and Salted Peanuts, Clif bars, NutriGrain bars, Famous Amos cookies, and Nature Valley Oats'n'Honey granola bars.
Vegan: Clif Bars and Smarties.
Nut-free: Goetze, maker of the Caramel Cream and Cow Tale, operates a dedicated nut-free facility, as does Dove Chocolate for its Silky Smooth Milk Chocolate and Silky Smooth Dark Chocolate. All Tootsie Roll Industries products are also nut product-free.
In addition to snacks, the information desks also sell a large collection of convenience items for students and guests on the go, including pens, blue books, toiletries, newspapers and more. 
Suggestions for new information desk items can be submitted via email to student-centers@udel.edu. 
For any questions regarding the nutritional information above, see the websites provided.
Article and photo by Casey Impagliazzo