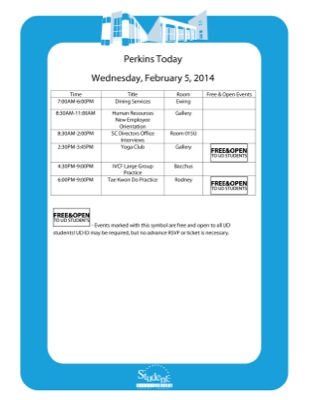 USC signage
Student centers promote spontaneous student involvement with new signs
9:57 a.m., Feb. 5, 2014--University of Delaware students can now find every event that is free and open to them in either Perkins Student Center or Trabant University Center just by stopping at the information desks in either building.
The University Student Centers (USC) daily schedules, Perkins Today and Trabant Today, now include a designation for events that are "free and open to UD students." For a sample, click here.
From graduates, faculty
As it neared time for the processional to open the University of Delaware Commencement ceremonies, graduating students and faculty members shared their feelings about what the event means to them.
Doctoral hooding
It was a day of triumph, cheers and collective relief as more than 160 students from 21 nations participated in the University of Delaware's Doctoral Hooding Convocation held Friday morning on The Green.
Students may need their UD ID cards in order to attend an event but no pre-registration will be required. Perkins Today and Trabant Today schedules are also available on the left menu of the USC website.
"Over 5,000 students pass through Perkins and Trabant on a daily basis. Giving them another easy way to find out what activities are available to them coincides with the USC's mission to enhance and promote student involvement," said Gil Johnson, USC associate director for event services.
Students can also follow @studentevents on Twitter for event notifications on the go, and can find the full schedule of events on StUDent Central.
Article by Casey Impagliazzo