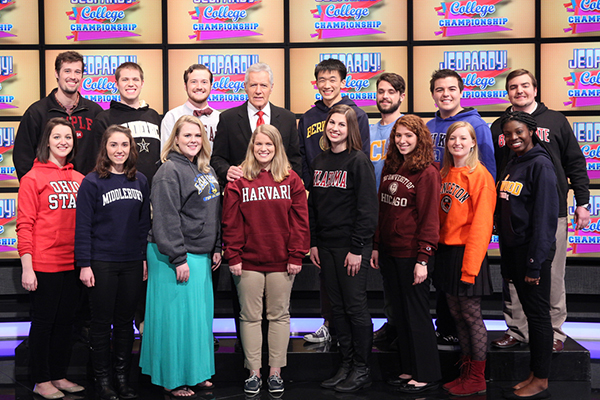 Game time
'Jeopardy!' appearance one-of-a-kind experience for UD student
7:41 a.m., Feb. 11, 2014--For University of Delaware sophomore Sarah Stevens, appearing on the Jeopardy! College Championship yesterday evening began when her mother insisted she take the 50-question online test and see what happened next.
She did, and about six months later, the history major with a minor in English from Dover, Del., got an email saying that the producers were interested. Stevens eventually joined about 200 students for a day of interviewing in New York City.  
'Resilience Engineering'
The University of Delaware's Nii Attoh-Okine recently published a new book with Cambridge University Press, "Resilience Engineering: Models and Analysis."
Reviresco June run
UD ROTC cadets will run from New York City to Miami this month to raise awareness about veterans' affairs.
"We did a few rounds of mock gameplay, an interview, and took another written test where we were asked what we do with our winnings." Stevens said. "I told them I would immediately move to Europe and live there until I ran our of money. I didn't hear from the producers until last November, and then I was in absolute disbelief."
One of 15 contestants chosen, Stevens was among those competing for the $100,000 top prize and automatic berth in the next Tournament of Champions. On Monday, she was up against James Fulwiler of Temple University and Whitney Thompson of the University of Oklahoma, who advanced.
Stevens described the process of appearing on the show, including a six-hour plane ride to the Golden State, as being time consuming and exhausting. 
"I'd never been on a plane that long, and I'd be lying if I said I wasn't apprehensive," Stevens said. "After going through security at LAX, I stepped out into 70 degree weather and it was beautifully sunny."
After getting a day off on a Monday to recuperate, Stevens said the next two days were spent in taping from 10 a.m. to 5 p.m., with a wrap party thrown by the producers for all the contestants on Wednesday evening. 
Stevens said the experience of being on a show that she had watched since being a little girl -- and always wanted to be on -- was both surreal and a dream come true. 
"I think the most unique thing for me was seeing how many other things were going on while we were playing the game," Stevens said. "It's kind of overwhelming to have the lights and cameras and the audience in the studio and to have to worry about the gameplay."
Sharing their strengths and weaknesses before filming, students found that each possessed their own particular kind of knowledge, and that despite a lot of preparation, categories always come up that stump the contestants.
"It's extremely comforting to find so many other people who get you so completely, even though they've only known you a matter of hours," Stevens said. "It's like the 15 of us were almost instantly best friends. They are a special group of people."  
Article by Jerry Rhodes
Photo courtesy of Jeopardy!