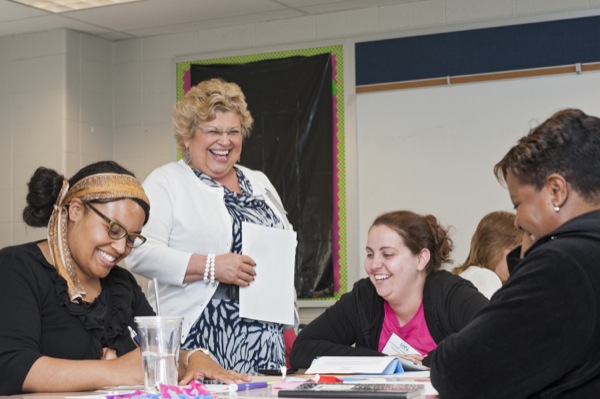 Measuring up
UD's Wilson assists with effort to update school leader standards
1:19 p.m., Feb. 24, 2014--Schools cannot expect to meet the increasing demands for student achievement without effective leaders, according to national education experts. School leadership is second only to classroom instruction among all school-related factors that contribute to students' academic success.
To identify and set national standards for leadership, the Council of Chief State School Officers (CCSSO) and the National Policy Board for Education Administration (NPBEA) formed the Interstate School Leaders Licensure Consortia (ISLLC) in 1994 and released standards in 2008.
'Resilience Engineering'
The University of Delaware's Nii Attoh-Okine recently published a new book with Cambridge University Press, "Resilience Engineering: Models and Analysis."
Reviresco June run
UD ROTC cadets will run from New York City to Miami this month to raise awareness about veterans' affairs.
While it has been only six years since the implementation of ISLLC 2008, the role and expectations of educational leaders is now dramatically different. To respond to the challenges they now face, the CCSSO and NPBEA are developing refreshed ISLLC leadership standards.
Jacquelyn Wilson, director of the University of Delaware's Delaware Academy for School Leadership (DASL) has been selected to co-chair the Standards Update Committee, one of six committees that will create:
An inventory of existing state policies and resources pertaining to standards for educational leaders;
A review of current research and collection of recommendations to help develop refreshed ISLLC Standards;
Refreshed ISLLC Standards;
Updated ELCC Standards and accreditation processes;
Principal supervisor standards; and 
Tools for states and districts to use in the launch of the new standards.
Wilson was asked to serve on this committee because of her remarkable depth of knowledge in the field of educational leadership. 
"Dr. Wilson has displayed a singular commitment to the well being of children and families throughout her career. She demonstrates the passion, optimism, pro-activeness and tenacity that define the very best school leaders in the nation," said co-chair Joseph Murphy, Frank W Mayborn Chair at Vanderbilt University. "She has a profound knowledge of the DNA of excellence in education and the astonishing ability to get people to follow her to create great schools."
This reevaluation comes at a critical time. The implementation of several high impact educational policies and initiatives such as the Common Core State Standards, the 2009 Race to the Top initiative and the 2011-14 Elementary and Secondary Education Act (ESEA) Flexibility Waiver have increased the demands on educational leaders. 
They are now responsible for shaping a collective vision of student success, creating a school culture that promises success for each and every student and purposefully distributing leadership roles and responsibilities to other administrators and teachers in their schools so that teaching and student achievement will improve.  
"This project has the potential to truly impact the quality and effectiveness of the entire education profession. By developing and implementing an aligned and coherent system for developing leaders, we can prepare, develop, support and evaluate them, so they can positively impact teacher practice and student learning," said Wilson. 
The Standards Update Committee, under the guidance of Wilson and Murphy, will develop a refreshed edition of the 2008 ISLLC standards for education leaders based on empirical research, best practice, and promising practice on leadership that promotes student social and academic learning and leadership responsibilities in current educational contexts. 
The new ISLLC standards are expected to be adopted by the end of 2014. Funding is provided through a grant by the Wallace Foundation.
Article by Alison Burris
Photo by Evan Krape