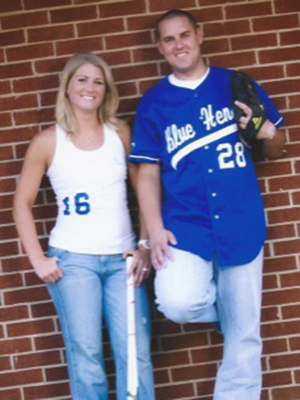 Double Dels contest
Double Dels invited to participate in Lovebirds contest on Facebook
9:45 a.m., Feb. 5, 2014--This Valentine's Day, the University of Delaware Office of Alumni Relations wants to once again meet and celebrate Double Dels — married and civil union couples where both partners are UD graduates — through its Lovebirds Contest. 
All Double Dels couples are encouraged to post a photo of themselves on the UD Alumni Relations Facebook wall for a chance to be named the official 2014 UD Lovebirds and win a $75 Visa gift card. Second and third prizes will also be awarded.
'Resilience Engineering'
The University of Delaware's Nii Attoh-Okine recently published a new book with Cambridge University Press, "Resilience Engineering: Models and Analysis."
Reviresco June run
UD ROTC cadets will run from New York City to Miami this month to raise awareness about veterans' affairs.
Participants can share a throwback picture, a recent picture, or a compilation of the two. Creativity and UD spirit are strongly encouraged.
The photo that receives the most "likes" will be the winner of the top title and gift card. The second place picture will receive a $50 Visa gift card and the third place picture will receive a $25 Visa gift card.
Photo posting and voting begins on Friday, Feb. 7, and ends at noon on Friday, Feb. 14. The winners will be announced on Facebook on the afternoon of Valentine's Day.
To qualify, all submissions must be posted directly on the official University of Delaware Alumni Relations Facebook page between Feb. 7 and noon on Feb. 14. Photos posted before Feb. 7 will be removed without notification. 
Include your names and graduation years, a story about your time at UD (how you met, where you had your first date, classes you had together, etc.), and tell your friends to "like" your picture for a chance to win.
Last year, first place went to Matt and Lindsay Heppner (pictured). The Heppners met freshman year. Matt Heppner, a member of the Class of 2008, was a baseball player, and he lived a floor above Lindsey, a member of the Class of 2007 and a field hockey player, in the Pencader residence hall complex.
Second place was awarded to Mike and Alexis Kearsey, both of the Class of 2003, and third place to Brandon and Kathryn Ellis, both of the Class of 2007. Read about last year's contest.
"We look forward to seeing your submissions and hearing your stories," a representative of Alumni Relations said.
About the UD Office of Alumni Relations
The University of Delaware Office of Alumni Relations creates a culture of connection within the Blue Hen community, fostering lifelong, mutually rewarding relationships by providing programs and events that build Blue Hen pride among alumni and students. For more information and to connect with fellow alumni, visit UDconnection.