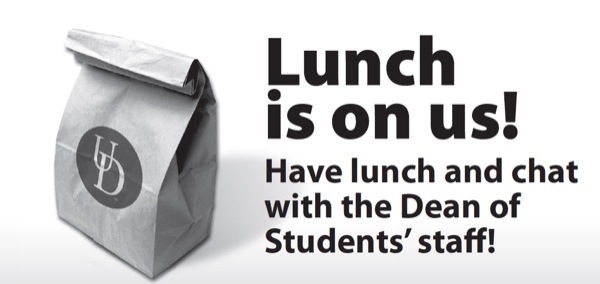 March 5: 'Lunch is on us'
UD undergrads invited to share thoughts with Dean of Students' staff members
8:55 a.m., Feb. 20, 2014--The University of Delaware Office of the Dean of Students is interested in hearing the thoughts of undergraduates about the student experience at UD and is inviting students to an informal luncheon meeting from noon-1:30 p.m., Wednesday, March 5, in 105 Hullihen Hall.
At the "lunch is on us" event, students can enjoy a meal and chat with members of the Dean of Students' staff.
From graduates, faculty
As it neared time for the processional to open the University of Delaware Commencement ceremonies, graduating students and faculty members shared their feelings about what the event means to them.
Doctoral hooding
It was a day of triumph, cheers and collective relief as more than 160 students from 21 nations participated in the University of Delaware's Doctoral Hooding Convocation held Friday morning on The Green.
Seating is limited to 15 students and those who are interested in attending should RSVP to deanofstudents@udel.edu or call 302-831-8939 by Feb. 27 to reserve a seat.
For a flyer about the event, click here.