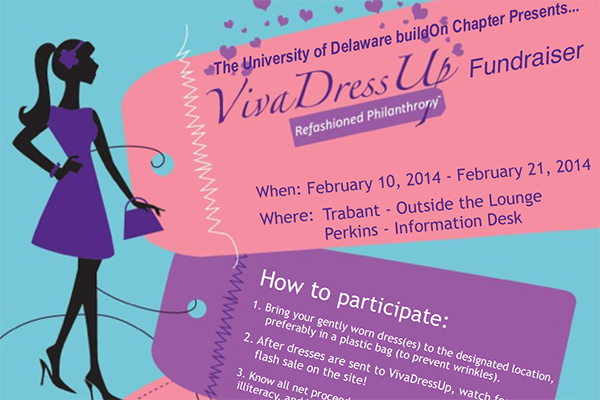 Feb. 10-21: Dress drive
UD buildOn sets dress collection drive to fund school in Nicaragua
8:21 a.m., Feb. 4, 2014--The University of Delaware chapter of buildOn has announced that it will sponsor a Viva Dress Up dress collection drive the first two weeks of spring semester, Feb. 10-21, to fund construction of a primary school in Nicaragua.
Members of the campus community are encouraged to donate used dresses to assist the new buildOn registered student organization as it raises money for the school.
June 5: Blue Hen 5K
University of Delaware graduates planning to attend Alumni Weekend are encouraged to register for the annual Blue Hen 5K walk and run, which will be held Sunday morning, June 5.
June 6-9: Food and culture series
The 20th annual June Lecture Series at the Osher Lifelong Learning Institute at UD in Wilmington will be held June 6-9. Titled 'June a la Carte,' this year's program focuses on great political documents, feminism, world politics and a Newark cuisine sampler.
Viva Dress Up is an organization that re-sells used dresses and donates 60 percent of the profits to buildOn at UD. 
Representatives of buildOn, which has as its mission breaking the cycle of poverty through afterschool service programs and school construction projects, will be collecting the dresses. Dresses should be gently used, and can be sundresses, party dresses, prom dresses, and any dress that no longer will be worn. 
Contact udbuildOn@gmail.com or 203-506-8557 to donate and representatives will arrange a pick up.
For more information about Viva Dress Up, visit the organization's website. For more information about buildOn at UD, visit the website or the Facebook page.
For a flyer in PDF format, click here.