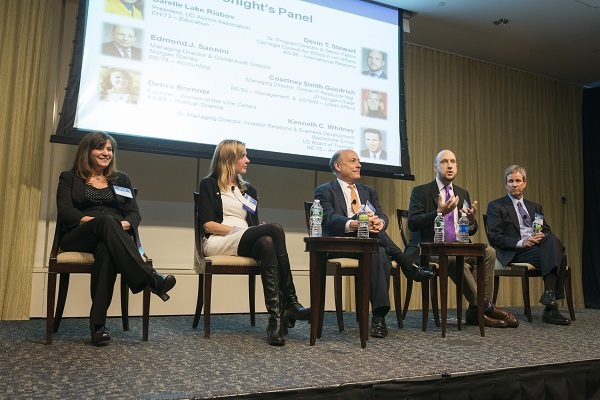 Alumni activities
University president to speak at event in New York City
5:08 p.m., Feb. 21, 2014--University of Delaware alumni are invited to join President Patrick Harker at the third annual "Evening of Conversations and Connections" to be held at 6 p.m., Thursday, March 13, in New York City.
The event will showcase talented UD alumni in a panel discuss on "Social Media – Its Impact and Future."
'Resilience Engineering'
The University of Delaware's Nii Attoh-Okine recently published a new book with Cambridge University Press, "Resilience Engineering: Models and Analysis."
Reviresco June run
UD ROTC cadets will run from New York City to Miami this month to raise awareness about veterans' affairs.
There also will be a networking reception.
Registration closes on March 9. For details or to register, see the UDconnection website.
Other activities are scheduled as follows:
Tuesday, Feb. 25, 5 p.m.: New York happy hour. The New York City Alumni Club will host a "winter blues" happy hour at Brother Jimmy's.
Tuesday, March 4, 6 p.m.: Career Networking Night. The College of Arts and Sciences, in collaboration with UD's Career Services Center, will host Career Networking Night at the Trabant University Center. There will be opportunities for career conservations and networking with fellow alumni.
Wednesday, March 5, 5 p.m.: Philadelphia happy hour. Philadelphia Blue Hens will hold happy hour upstairs at the Black Sheep.
Wednesday, March 5, 6 p.m.: 'Evening at Under Armour.' Alumni are invited to "An Evening at Under Armour" at the company's Baltimore headquarters. UD President Patrick Harker will be on hand to the event.
Saturday, March 8, 7 p.m.: Men's crew alumni winter social. The UD Men's Crew Alumni Association will host a winter social at the historic Malta Boathouse on Kelly Drive in Philadelphia. 
Tuesday, March 11, 5 p.m.: Philadelphia ice hockey. Alumni are invited to join Philadelphia area alumni as the Flyers host the New Jersey Devils in an NHL game at the Wells Fargo Center. Meet before the game at McFadden's at the Ballpark for complimentary appetizers and drink specials.
Wednesday, March 12, 4 p.m.: Art history grad student research. Alumni are invited to attend an evening of original research by UD art history graduate students. The presentations will be moderated by Camara Holloway, assistant professor of art history.
Wednesday, March 12, 5:30 p.m.: Boston Celtics game. The Boston Alumni Club invites alumni to a game between the Celtics and the New York Knicks at TD Garden.
Sunday, March 30, 9:30 a.m.: National Aquarium in Baltimore. Alumni are invited to a private immersion tour and breakfast at the National Aquarium in Baltimore. The event offers a behind-the-scenes tour of the facility.
Sunday, April 6, 1 p.m.: Grape to plate. Blue Hens in the Reading, Pa., area are invited to a wine trail and culinary adventure at the Pinnacle Ridge Winery in Kutztown.