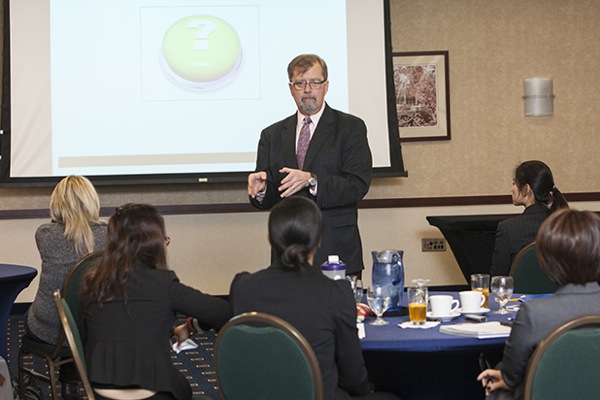 Hospitality industry insight
Graduate students engage with hotel and restaurant executives
12:34 p.m., Feb. 21, 2014--From business incubation and development to group dynamics and professionalism, students in the University of Delaware Department of Hotel, Restaurant and Institutional Management's Hospitality Business Management (HBM) graduate program recently learned about challenging and emerging topics by participating in an exclusive four-day Industry Immersion Workshop. 
Held earlier this month with assignments designed to extend into spring semester, the year's workshop, now in its second year,  placed students in an intensive learning environment with seasoned industry executives at the Marriott Learning Center at the Courtyard Newark-University of Delaware on the Newark campus.
From graduates, faculty
As it neared time for the processional to open the University of Delaware Commencement ceremonies, graduating students and faculty members shared their feelings about what the event means to them.
Doctoral hooding
It was a day of triumph, cheers and collective relief as more than 160 students from 21 nations participated in the University of Delaware's Doctoral Hooding Convocation held Friday morning on The Green.
 "This year we put added emphasis on food and retail in traditional and nontraditional markets like sports complexes, shopping centers, and universities and schools," said Sri Beldona, director of the graduate program in HBM. "The workshop is a great opportunity for students to see the food service side of brands, as well as implementing sustainability practices. Together, all speakers and topics cover key facets of decision making in the hospitality industry that served the workshop's purpose very well."
Learning about leadership
On day one, students learned about hospitality leadership from Kathy Smith, a 1978 UD graduate and former senior vice president of human resources for the Ritz Carlton Hotel Company, LLC.
Smith spoke about talent acquisition and performance development, and conducted interactive exercises with the students to help them understand how to find, hire and engage employees. She emphasized that talent acquisition is more than simply letting the talent find the business.
"This is their opportunity of a lifetime," said Smith of potential interviewees. "You have to give them respect, you have to sell them on the company. As the interviewer, you need to be prepared."
Smith also used the Talent Management and Organizational Capability (TMOC) model to give the students insight on not just understanding but practicing human resources in real businesses.
"We learned to read and evaluate people of exceptional potential and learning capability that fit the need of forming an outstanding team," said Karen Song, a student in the HBM program. "Kathy made me realize that average talent leads to average performance, which tells me that as a leader, I need to fill my team with outstanding people and as an employee, I have to hold myself accountable to the standard."
Developing a business
Day two of the workshop centered on franchise management and business incubation and development. Steven Ng, CEO of Paxelax, and Tim Schipper, major market director for North America operations with International Hotels Group, used group games and case studies to engage students in the new business development process and related concepts.
"He helped us understand the meaning of abstract terms like 'agile development' and 'waterfall development'," said Jiacheng Li of Ng's presentation. "The session provided useful tools for students to start their own businesses and helped us understand how to make an idea become a reality."
For student Jack Deng, Ng's presentation on developing and analyzing a business "inspired passion" for his own project.
According to Caroline Agbemabiese, although Ng's and Schipper's sessions shed light on systematically designing a plan for a business startup in a logical and objective manner, they still allowed for flexibility.
"Since the model creates relationships with its components, it gives room for refinement and additions or modifications throughout the process until the team is in agreement with the final outcome," said Agbemabiese. "The model encourages teamwork, defines actionable metrics and builds into it scalable processes which leads to improvements over time.  It is an agile development tool which encourages small changes for improvements and can also be utilized within large businesses when considering new business concepts."
Corporate insights
The third day of the workshop featured a variety of sessions by ARAMARK representatives.
"ARAMARK is a leader in the stewardship of the environment and sustainability on UD's campus and other campuses around the globe," said Fred DeMicco, ARAMARK Chair in Hotel, Restaurant and Institutional Management. "From the local sourcing of food products and recycling of fryer oils for bio-diesel, to composting, recycling/reuse and fair-trade practices, ARAMARK's 'green-thread' initiative educates staff and students on the importance of sustainability and its impact on our environment. It is brilliant science plus art for environmental awareness."
Kate Chiquoine found the ARAMARK sessions most beneficial out of all the sessions because she hopes to have a career in restaurant consulting.
"Ann Marie Solomon, vice president of national brand partnerships for the company, spends every day trying to determine what restaurant will be the best fit for which school and vice versa," said Chiquoine of the day's first speaker. "Her knowledge has allowed her to build a niche, nontraditional market in higher education to sell to corporate chains and franchises, which has become a huge opportunity for growing brand awareness and reputation for many companies, especially with younger generations."
Paul G. Tunnerman, senior vice president of Raising Cane's Restaurants, LLC, a chicken finger "fast casual" restaurant with origins in Louisiana, also presented that day and was evidence of the market opportunity for Chiquoine.
"Raising Cane used the opportunity to open in nontraditional venues as an access to markets in which they might not otherwise have available, like northern markets," said Chiquoine. "Their store is a fascinating case study on the successful opportunity that such markets offer."
Chiquoine said she was grateful for the opportunity to attend the workshop, adding, "listening to dynamic speakers like these allow our goals to grow and show we are on the right path to our dreams. It was inspiring and exciting."
Rita Alison, national senior manager of environmental stewardship at ARAMARK, spoke to the students about sustainability practices.
"Sustainability is very much a part of this industry," said Alison. "Our goal is to have managers and employees engaged, where everyone is aware and involved. The key to sustainable foods is remembering it is a complex process with many different challenges and opportunities."
One in particular, said Alison, is supply and demand.
"How do you drive consumption habits to more responsible ones?" Alison asked the students. "By making sure you create a policy broad enough to appeal to a large audience. Aim for a balanced approach and make sure whatever policy you put in place is applicable to a broader group."
Testing is important, too, Alison added, noting there could be pricing implications or a market that demands certain foods and certain times -- all points that play into a viable sustainability plan.
Importance of analytics
Closing the workshop on day four was Steve Hood, senior vice president of Smith Travel Research, who spoke to the students about hotel business analytics.
Graduate students Aparna Sharma and Emmanuella Owens found Hood's session the most valuable to their interests.
"The information and insights of the hospitality and tourism industry that Mr. Hood illustrated are of immense help to anyone who aspires to be in this field," said Sharma. "It was easy to understand the reasons that underlie any decision that is made by leaders in today's competitive market and elucidated how a single decision involves an enormous amount of research and effort. After just one presentation by Mr. Hood, I personally feel that I have gained a tremendous amount of knowledge about research in hospitality. I am very glad that I had opportunity to participate in this interesting, interactive session."
Added Owens, "I was impressed with Mr. Hood's ability to engage participants as well as teach the intensive course material. He took great care to explain the purpose, use and interpretation of the multiple STR data reports, and was knowledgeable, pragmatic and disseminated tedious information displayed on graphs, tables and figures with enthusiasm, leaving an indelible impression on both my classmates and myself."
Jane Ji schipper was grateful for the workshop experience as a whole.
"For those of us who have not yet obtained any working experience in the hospitality industry, it was a great opportunity to get a closer look into the industry and how it is transforming," said Ji. "For those of us who have some working experiences in the hospitality industry, it offered us a unique perspective to look into the hospitality business from a whole picture and from a higher executive level."
Article by Kathryn Meier
Photo by Ambre Alexander