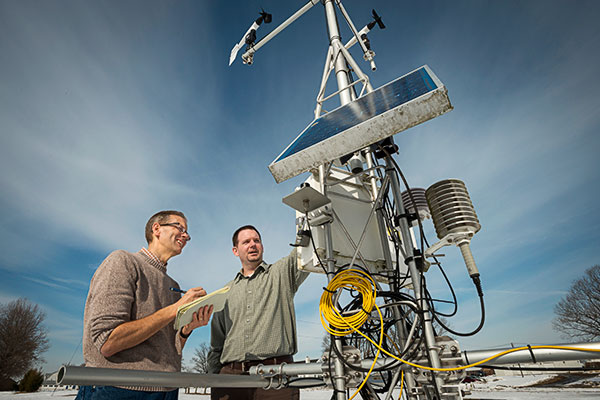 Weather watchdogs

Delaware Environmental Observing System marks 10 years as state's real-time data source

1:40 p.m., Feb. 21, 2014--A decade ago, Delaware had only one reliable weather station delivering hourly conditions online. That meant emergency response decisions for the state's entire 2,500 square miles depended on reports from one spot, the New Castle County Airport.

"We really needed to have a better distribution of stations around the state," said Dan Leathers, professor of geography and Delaware's state climatologist.

From graduates, faculty
As it neared time for the processional to open the University of Delaware Commencement ceremonies, graduating students and faculty members shared their feelings about what the event means to them.
Doctoral hooding
It was a day of triumph, cheers and collective relief as more than 160 students from 21 nations participated in the University of Delaware's Doctoral Hooding Convocation held Friday morning on The Green.
Leathers and his colleagues set out with state support to build a more comprehensive network, called the Delaware Environmental Observing System (DEOS). Housed within UD's College of Earth, Ocean, and Environment, DEOS is now the go-to place online for real-time weather conditions in Delaware.

This month marks the 10th anniversary of the first DEOS observation -- 26 degrees with 16 mph winds at 11:25 p.m. on Feb. 24, 2004 -- and the beginning of what would become one of the densest state systems in the country with a total of 51 environmental sensing locations today.

From road crews to school administrators to news media, DEOS data has proved valuable to snow-weary Delawareans -- especially in this year's blustery winter. The system's "Snow Monitoring Network" uses automated sensors to determine snow accumulation and automatically updates every 5 minutes.

When snow falls, DEOS staff members monitor the storm around-the-clock to make sure the system is operating smoothly. The information is used by the Delaware Department of Transportation in reimbursing civic associations for snow removal. The totals also are provided to the National Weather Service, utilized by media websites and referenced by homeowners curious about exactly how much snow they have to shovel.

And snowfall is just the tip of the iceberg. DEOS weather stations provide time-specific data on rainfall, air temperature, relative humidity, barometric pressure, wind speed, wind gusts and wind direction.

In severe weather, those kinds of details can help emergency managers make better, faster decisions about how to react. Back before DEOS data was at their fingertips, they might be challenged when it came to dealing with a weather-related emergency in Kent and Sussex counties, where conditions can vary drastically from what's happening upstate.

"How do you make a call based on a weather report that took place an hour ago in Wilmington?" said Kevin Brinson, who helped install the first DEOS weather station as a research assistant and now serves as director. "What if a front has gone through? Or if the wind direction has shifted? You can't be very proactive with your decision support systems if you don't have the best information you can get in real-time, and I think that's one of the biggest values of DEOS."

While emergency management has always been a key function, offerings have expanded over time as government agencies and others saw additional opportunities and applications.

DEOS helps the agricultural community by providing useful information like soil moisture and soil temperature. In 2011, DEOS launched the Delaware Irrigation Management System to assist farmers in fine-tuning when to best irrigate crops.

Last year, DEOS data helped refine the analysis of climate trends for the state. Numerous UD graduate students have used historic DEOS metrics as the basis of research projects and dissertations. Environmental consultants, federal organizations, forecasters and engineers regularly call on the system's data, which is archived for future use.

"The requests kind of come from all over the place," Brinson said.

That's part of why DEOS is continually trying to synthesize data and make it available in user-friendly formats online. Brinson is planning a web overhaul later this year, and the system is expanding beyond meteorological data to other types of monitoring that serves the state, like flooding and water quality.

The hope for the upcoming decade is to transition into an environmental data services group for anything that can be done via observing, whether through sensors, satellites, generating a model or partnering with other states to take a broader view.

"DEOS has evolved a lot," Leathers said. "Now it's a matter of taking all this data that we have coming in on a regular basis and disseminating it in such a way to really make a difference in informing decision makers and solving environmental problems."

Article by Teresa Messmore
Photo by Kathy F. Atkinson