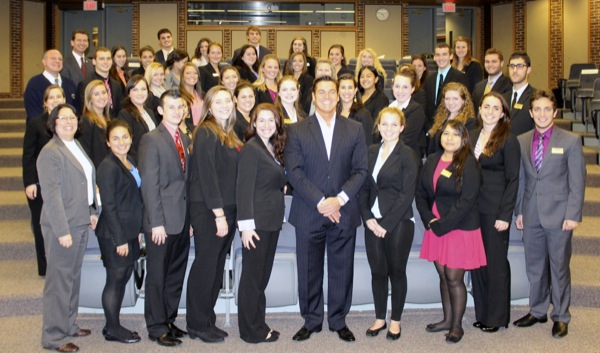 Wise lecture
Ovation Brands CEO Anthony Wedo speaks with HRIM students
3:16 p.m., Dec. 4, 2013--Delaware resident Anthony Wedo, CEO of Ovation Brands, parent company of some of the nation's largest steak-buffet restaurant chains including HomeTown Buffet and Old Country Buffet, met with University of Delaware Department of Hotel, Restaurant and Institutional Management (HRIM) students on Thursday, Nov. 21.
The appearance was part of the Paul Wise Executive in Residence Speaker Series, where leaders of the hospitality industry talk with students in the Introduction to Hospitality course to share insights and their personal success stories in the field.
'Resilience Engineering'
The University of Delaware's Nii Attoh-Okine recently published a new book with Cambridge University Press, "Resilience Engineering: Models and Analysis."
Reviresco June run
UD ROTC cadets will run from New York City to Miami this month to raise awareness about veterans' affairs.
"Having Tony Wedo, an executive with a track record of success, visit the Lerner College to give the Paul Wise lecture is fabulous," said Bruce Weber, dean of the Alfred Lerner College of Business and Economics. "It's an opportunity for Lerner students and faculty to gain insight into what drives results in the ever-changing restaurant industry. At Lerner, we pride ourselves on experience-driven learning and Tony's genuine and honest approach to business and personal motivation is a rich complement to the learning that goes on in HRIM and the college."
Like many past speakers, Wedo realized his passion for the service industry early in life starting his career in restaurants as a teenager and working his way up to an executive position. Wedo is now a sought-after speaker on the topic of leadership.
"Leadership means to serve others," Wedo told students. "You have got to have a passion to serve people if you want to lead them. You have to be driven to put others' needs above your own and care for others more than you care for yourself."
Last month, Wedo appeared on the CBS show Undercover Boss to get an inside look at what happens in his restaurants. He was also featured on the show's special episode, "Busted," which included several bosses who had to break their cover during the show and reveal their true identities.
Wedo's advice to UD students? "Go through life awake. There's something to learn in every moment, but you have to keep your head up and your eyes open."
About the Paul Wise series
The series, named in honor of HRIM founder Paul Wise, was established by the department in 2006-07 to bring prominent industry professionals and executives to campus and to inspire HRIM students early in their careers.
Also in Wise's honor, the Paul Wise Executive-Residence fund was established when he retired from UD in 2000. The fund sponsors and on-campus program consisting of lectures, workshops, consultations and advisement sessions with HRIM faculty and staff, and is spearheaded by a recognized leader who personifies current best practices in hospitality management.
Additional information on the series, including speaker biographies, is available on the HRIM website.