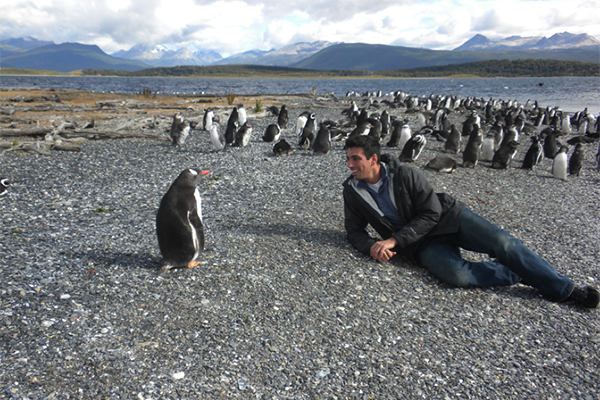 Winter abroad
UD students prepare for international study during Winter Session
9:47 a.m., Dec. 12, 2013--From Chile to China, University of Delaware students and faculty are preparing to travel around the world for international study during Winter Session in 2014.
UD's nationally recognized study abroad program offers students from every academic discipline an opportunity to engage in discovery learning, according to a representative of the University's Institute for Global Studies.
Fulbright awards
Three University of Delaware students and an alumna have received word this spring that they will travel abroad as part of the newest class of Fulbright Student Program award winners.
Peace Corps plans
Two University of Delaware students, John McCarron and Bridgette Spritz, have been selected as Peace Corps volunteers and will serve in Ghana and Rwanda.
During this Winter Session, more than 1,000 University of Delaware students will travel to 24 different countries as part of 50 different programs spanning 39 academic subjects. They will pursue up to seven academic credits during five weeks of study.
As in years past, students and faculty have been invited to share their impressions of the world via social media and a special photo contest. Participants from 30 programs will capture images of UD's mascot YoUDee in various settings across the globe, and will submit their works to the Blue Hens Around the World 2014 photo contest.
Judging will take place in late winter with an exhibit of the top entries planned for this spring at 44 Kent Way, the new home of services for international and graduate communities at UD.
Members of the University community can "travel" along with study abroad participants by following #UDAbroad via Instagram and Twitter.
UD is a national leader in study abroad programs. Approximately 35 percent of undergraduate students study outside of the U.S. on an annual basis.
Winter Session is the most popular time for UD students to do so, with about 80 percent of all study abroad activity taking place during this period.
The 90th anniversary of the University's study abroad program, considered the first in America when eight students set sail to France in 1923, was marked this year. Since the initial program, UD has continued to expand study abroad opportunities and has sent programs to every continent. 
Article by Elizabeth Adams