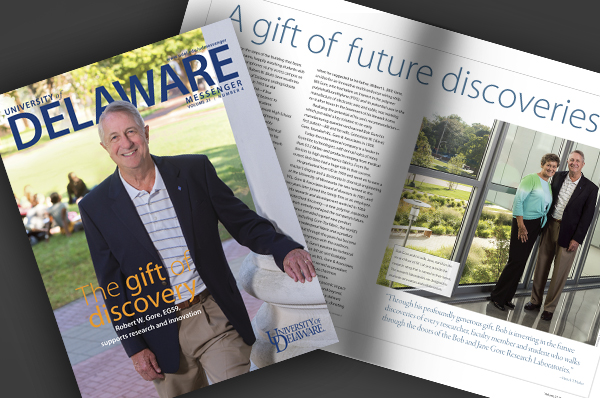 New 'UD Messenger'
December issue of UD Messenger magazine now available online
2:58 p.m., Dec. 2, 2013--The newest edition of the University of Delaware Messenger magazine can be viewed online at this website, where an interactive PDF version also is available. The print magazine, which is sent to alumni, parents and friends, is being mailed this week.
The Messenger contains news from the campus, including articles about faculty and student research and athletics, as well as profiles of University alumni and their remarkable accomplishments.
From graduates, faculty
As it neared time for the processional to open the University of Delaware Commencement ceremonies, graduating students and faculty members shared their feelings about what the event means to them.
Doctoral hooding
It was a day of triumph, cheers and collective relief as more than 160 students from 21 nations participated in the University of Delaware's Doctoral Hooding Convocation held Friday morning on The Green.
The current issue features a cover story on Robert W. Gore, Class of 1959, who has a compelling personal story of discovery and entrepreneurship and whose individual and family philanthropy has had a wide-ranging and continuing impact on the University and the community. A recent gift with his wife, Jane, supports research in the new Interdisciplinary Science and Engineering Laboratory, whose opening ceremony also is featured in the magazine. 
An article in the Research section describes an in-home harness system developed by physical therapy Prof. Cole Galloway to aid children with limited mobility. The article and photos show how the system is allowing a 6-year-old boy with spina bifida to move quickly around his house and play soccer and other games with his siblings — all helping him with the kinds of physical activity and social interactions that might otherwise be difficult.
A few of the alumni stories in the magazine profile a wildlife conservationist who works with a program to save the endangered manatee, a writer whose new book shows parents how to use the science of child development to do fun experiments with their babies, a geologist who travels the world conducting fieldwork on carbon and its role in various environmental situations, and a high school principal who has created and implemented an innovative program to help prepare his students for college success.
Messenger readers can enjoy photos and news from such memorable campus events as a visit and talk by U.S. Supreme Court Justice Sonia Sotomayor, who impressed the campus community with her warmth and candor as she interacted with students, and the dedication of a new residence hall named in honor of civil rights pioneer Louis Lorenzo Redding.
Also featured in this issue is an article about the 1963 Blue Hen football team that went undefeated and was awarded the national title. Almost 40 members of that team returned to campus for Homecoming 2013, participating in numerous special events and sharing their memories of that championship season a half-century ago.