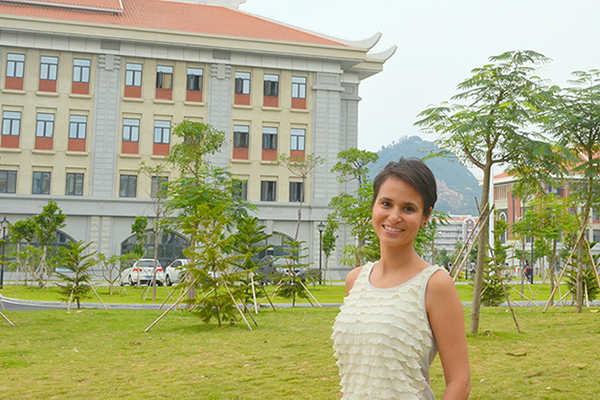 Graduate publication
GradImpact newsletter highlights global partnerships and research
12:47 p.m., Dec. 18, 2013--The fall 2013 issue of the University of Delaware's GradImpact newsletter focuses on global partnerships and research, and is available online now. Each semester, the publication showcases UD's growing graduate enterprise and explores its impact on local, national and global communities.
This issue highlights UD's partnerships with institutions and organizations all over the globe, as well as the international and comparative research of graduate students. 
From graduates, faculty
As it neared time for the processional to open the University of Delaware Commencement ceremonies, graduating students and faculty members shared their feelings about what the event means to them.
Doctoral hooding
It was a day of triumph, cheers and collective relief as more than 160 students from 21 nations participated in the University of Delaware's Doctoral Hooding Convocation held Friday morning on The Green.
UD has approximately 150 university partnership agreements representing at least 60 countries. The partnerships showcased in this newsletter are with the Fraunhofer Institutes, and universities in Brazil, China and Colombia, partnering with colleges across UD.
One notable example is the Joint Institute for Coastal Research and Management, a world-class global collaborative research initiative by UD's College of Earth, Ocean, and Environment and Xiamen University's College of Oceanography and Environmental Science in China.
Through opportunities created by the oceanography partnership, UD marine biosciences doctoral graduate Emily Maung-Douglass is currently pursuing postdoctoral research at Xiamen, and is enthusiastic about the opportunity to approach her research with a global view. "Do not let fear of the unknown or the logistics of international research hold you back," said Maung-Douglass. "My interactions with people here have given me a lot of insight and perspective in dealing with environmental issues that I might not have ever been exposed to otherwise."
Another research project profiled in this issue is that of UD's Craig Lee, a doctoral student in art history who was awarded a travel fellowship through the Center for Advanced Study in the Visual Arts at the National Gallery of Art to support his research in South Africa. Explained Lee, "Since the history of modern architecture rarely includes Africa as part of the discourse, I hope to build a more synthetic understanding of modern architecture and its global movement." 
The Ailsa Mellon Bruce Predoctoral Fellowship, which is supporting Lee's travel, is designed to promote research travel beyond a student's major field, not for the advancement of a dissertation.
Also highlighted in the fall issue: the opening of UD's newly remodeled 44 Kent Way building as a dedicated space for many of UD's graduate and international student services and programs; resources and events for the graduate student community; and several stories reporting on honors and achievements of graduate alumni.
GradImpact is distributed to potential graduate students, to UD's community partners, as well as to UD faculty and administration. A limited number of print copies are available. The fall 2013 issue of GradImpact can be viewed online.
Photo courtesy of Min Zhang