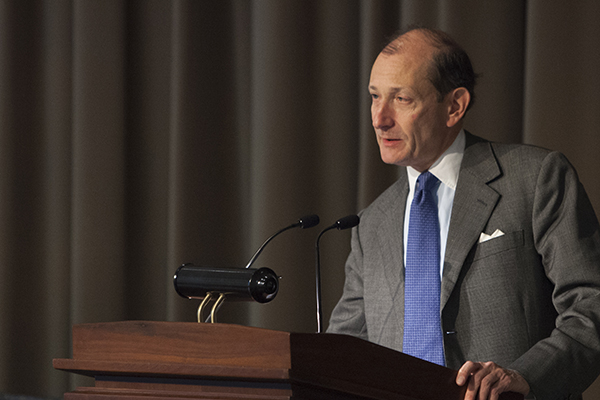 Elson appointed
UD's Elson named to Public Company Accounting Oversight Board advisory group
11:55 a.m., Dec. 19, 2013--The University of Delaware's Charles Elson has been appointed to the Public Company Accounting Oversight Board's Standing Advisory Group.
Elson, the Edgar S. Woolard Jr., Chair of Corporate Governance and director of the John L. Weinberg Center for Corporate Governance in the Alfred Lerner College of Business and Economics, will serve a three-year term beginning in January 2014.
'Resilience Engineering'
The University of Delaware's Nii Attoh-Okine recently published a new book with Cambridge University Press, "Resilience Engineering: Models and Analysis."
Reviresco June run
UD ROTC cadets will run from New York City to Miami this month to raise awareness about veterans' affairs.
The Public Company Accounting Oversight Board (PCAOB) is a nonprofit corporation established by Congress to oversee the audits of public companies in order to protect the interests of investors and further the public interest in the preparation of informative, accurate and independent audit reports.
The PCAOB also oversees the audits of broker-dealers, including compliance reports filed pursuant to federal securities laws, to promote investor protection.
The 42-member Standing Advisory Board (SAG) advises PCAOB on the development of auditing and related professional practice standards. It includes experts in the fields of accounting, auditing, financial reporting, corporate finance and corporate governance, as well as experts in investing in public companies.
"The SAG consists of experts who have a stake in the preparation of informative, accurate and independent audit reports," said James R. Doty, PCAOB chairman. "Its members are an important source of insight and advice to the board."
"We have a robust standard-setting agenda, and we appreciate the SAG for providing valuable input as we undertake these very important issues," said Martin F. Baumann, chief auditor and director of professional standards for PCAOB and chairman of SAG.
Elson was one of 17 new SAG members announced this month.
Before joining the UD faculty, Elson served as a professor of law at Stetson University College of Law in St. Petersburg, Fla., from 1990 until 2001. His fields of expertise include corporations, securities regulation and corporate governance. He holds a bachelor's degree from Harvard College and a law degree from the University of Virginia Law School. 
Elson has written extensively on the subject of boards of directors and is a frequent contributor on corporate governance issues to various scholarly and popular publications. He serves as vice chairman of the American Bar Association Business Law Section's Committee on Corporate Governance, is a board member of HealthSouth, serves as a director for several not-for-profit groups, and was recently named among the 100 most influential directors and governance professionals in the 2013 National Association of Corporate Directors' Directorship 100.