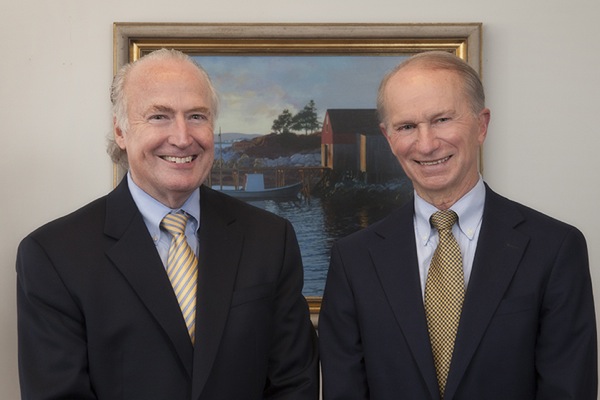 National training ground
Counseling Center alums now leading other programs
1:44 p.m., Dec. 12, 2013--Since opening its doors more than six decades ago, the University of Delaware Center for Counseling and Student Development (CCSD) has helped generations of students with their personal, career and educational concerns.
The center also has garnered a reputation as a training ground for graduate students and career professionals now serving as directors of student counseling centers at colleges and universities nationwide.
From graduates, faculty
As it neared time for the processional to open the University of Delaware Commencement ceremonies, graduating students and faculty members shared their feelings about what the event means to them.
Doctoral hooding
It was a day of triumph, cheers and collective relief as more than 160 students from 21 nations participated in the University of Delaware's Doctoral Hooding Convocation held Friday morning on The Green.
While attending the National Conference of the Association of University and College Counseling Center Directors at Newport, R.I., earlier this year, Charles Beale, CCSD director, and John Bishop, professor emeritus in the Department of Human Development and Family Studies and CCSD director from 1976-2007, recognized many individuals formerly associated with the center.
"When Charles and I got back to Delaware, we compiled a list of 27 people who are now directors, as well as 12 individuals now serving as internship training directors at other colleges and universities," Bishop said. "These people had been connected with the CCSD as pre-doctoral interns, professional psychologists, postdoctoral fellows and former students in the master's degree program in counseling in higher education." 
Complementing these leaders, Beale noted, are hundreds of CCSD "alums" working in other college counseling centers.
"There are an amazing number of our people now in leadership and other positions," Beale said. "All of these people represent the fruits of what our program at UD has to offer." 
Bishop said the center's success in producing future leaders and dedicated professionals in the field began under the stewardship of Edward Trembly, CCSD director from 1972-76.
"Ed had the vision that a university counseling center should be more than a psychology clinic," Bishop said. "He recognized that the center needed to offer good clinical  services, but that it also should provide the training and research associated with an academic institution." 
Trembly also realized the importance of having the CCSD meet national professional standards, Bishop said. 
"In 1973, UD became accredited by the International Association of Counseling Services, and in 1983, we were one of just 12 counseling center pre-doctoral internships accredited by the American Psychological Association," Bishop said. "When we started to achieve this recognition, we began to attract people who wanted to work and train with us." 
A consultation site visit to the center on March 1-2, 2010, cited the CCSD for its excellence in clinical delivery and the strength of its graduate training program. Consultants included Dennis Heitzmann, director, Counseling and Psychological Services, Penn State University, chair; Mark Thompson, director, Counseling Center, Colgate University; and Lauren Weitzman, director, Counseling Center, University of Utah.
The report lauded the CCSD's clinical staff as being well-trained and competent, receiving consistently favorable reviews from their constituency and engendering respect both on and off the UD campus.
The consulting team also cited the CCSD's national reputation as a center to emulate. Their report also noted that the center is recognized across the country for its traditionally strong predoctoral program in professional psychology.
 "When you view the center in this context, it's understandable why some other institutions look to the CCSD when considering how to establish or enhance their own programs," Bishop said. "The center is viewed as being very successful and also being on the cutting edge of meeting the challenges that university counseling centers face today." 
Last year the CCSD's American Psychological Association-accredited predoctoral internship program attracted 144 applicants for four positions, with 27 candidates interviewed on campus, Beale said.
"We hire psychology interns who are very enthusiastic about working in a college counseling center and working with college students," Beale said. "We also hire senior staff psychologists who are very interested in the training of psychologists as well as working with UD students." 
Also, dealing with similar challenges are former students and graduate interns who appreciate the skills and training gained during their UD experience. 
Weitzmansaid that UD center was the top choice for her doctoral internship, the final step in her Ph.D. training program. 
"What ultimately contributed to my decision to go to the CCSD was that they invested in an on-campus, full-day interview as part of the intern selection program," Weitzman said. "This allowed me to visit the center and meet the staff and interns -- I greatly appreciated the time and resources that the CCSD put into the selection process -- something that suggests the value they place on selecting work colleagues."   
Mollie Herman, training director and assistant director at the Towson University Counseling Center, cited the staff's dedication to training, satisfaction among its interns and the high level of professionalism and collegiality among the staff as qualities that have helped further her academic and professional careers.
"I appreciated having exposure to the counseling center psychologists and the openness of staff members in sharing their own challenges and triumphs," Herman said. "I got to see how staff members can work as a team, a value that I have carried with me in my varied professional roles over the years." 
David Matthews, who retired last year from Georgia Southern University after 37 years in the field, recalled training under Trembly as part of a semester-long workshop for resident advisers in the Residence Life program in 1966.
"My participation in the training was a life changer in that I decided that when I 'grew up,' I wanted to be like him," Matthews said. "I began to take the coursework I would need to be eligible for a program that he led. He took a personal interest in me, advising me as to what I would need to do to change majors, and, the journey began." 
Article by Jerry Rhodes
Photo by Ambre Alexander