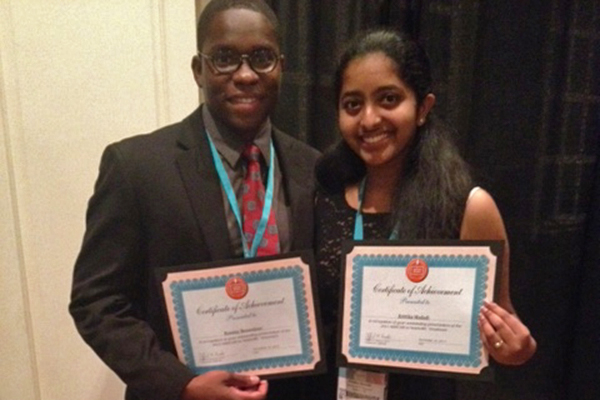 Biomedical research
UD scholars recognized at biomedical research conference for minority students
1:29 p.m., Dec. 18, 2013--University of Delaware senior Rossiny Beaucejour hopes to change the world by developing new "smart" materials embedded with tiny sensors that can monitor the materials' structural health.
Beaucejour, a mechanical engineering major and McNair Scholar at UD, presented at the Annual Biomedical Research Conference for Minority Students (ABRCMS) in Nashville, Tenn., last month, winning first place in his discipline.
Chronic wounds
UD's Millicent Sullivan and Kristi Kiick have received a $1.4 million grant from the National Institutes of Health for research that could provide a new approach to the treatment of chronic wounds.
Prof. Heck's legacy
The American Chemical Society is highlighting the legacy of the late Nobel laureate Richard Heck, the Willis F. Harrington Professor Emeritus of Chemistry at the University of Delaware with a digital tribute on its publications website.
"My passion is to work on any project relating to nanotechnology," said Beaucejour, who plans to pursue a Ph.D. in materials science and engineering. 
Participating in ABRCMS, the largest professional conference for minority students pursuing advanced training in science, technology, engineering and mathematics (STEM), is a major event on the calendar of the McNair Scholars Program at UD. The primary goal of the program, one of 158 funded nationwide by the U.S. Department of Education, is to prepare students from underrepresented groups for graduate study — all the way to the doctoral degree. 
Another ABRCMS-supporting program, called NUCLEUS, based in UD's College of Arts and Sciences, also offers academic services and activities to help the University retain and graduate academically talented students.
Krittika Madadi, a UD junior in health sciences who is in the NUCLEUS program, won first place in her discipline for her presentation on "burst firing" in neurons. She credits her mentors and fellow UD students for giving her constructive criticism as she rehearsed her presentation over and over. 
"All we can do is present clearly, confidently and be honest with the judges," Madadi said. "In the end, winning or not winning did not matter because attending ABRCMS was an opportunity of a lifetime."
During the four-day event, more than 1,500 students nationwide gave poster and oral presentations in 12 disciplines in the biomedical and behavioral sciences, including math. All undergraduate student presentations were judged, and those receiving the highest scores in each discipline and educational level were presented an award.
In addition to Beaucejour and Madadi, who received certificates and $250 cash prizes for their winning presentations, three other UD students took part in the conference.
Arianna Morton, a senior in human development and family studies, said the experience "recharged" her love for science and her motivation to work hard to achieve her professional goals. She competed against more than 150 other students in social sciences.
"I hope to be a part of something like this again as I can only see myself learning and growing from such a rich environment," Morton said.
Edna Ofori, a senior in medical laboratory sciences, was most impressed by Yale University scientist Ainissa Ramirez, who delivered the keynote address, and Andrew Young, former United Nations ambassador who was a colleague of the Rev. Dr. Martin Luther King Jr.
Reflecting on the hardships these role models endured, Ofori said, "I believe that the least I could do to repay these individuals is to excel in academia." 
Fante Kalle, a senior in biological sciences, said she appreciated having the opportunity to network with students, professors and graduate school representatives from across the U.S. 
UD's Keeley Powell, assistant director of recruitment and diversity in the Office of Graduate and Professional Education, was among more than 500 representatives from U.S. graduate programs, government agencies and foundations who shared information about graduate school and summer internship opportunities.
Kalle said such resources, and the presentations by role model scientists, had a profound effect on her. 
"They truly awakened my passion for science and motivated me to work even harder in order to achieve my goals," Kalle said.
The students' presentations and mentors are listed below:
McNair Scholar (Winner): Rossiny Beaucejour, senior, mechanical engineering. Research title, "Locally Patterned Carbon Nanotubes for Bio-Inspired Sensing of Deformation and Damage in Composite Materials." Faculty mentor, Erik Thostenson, assistant professor of mechanical engineering, UD.
NUCLEUS Student (Winner): Krittika Madadi, junior, exercise science. Research title, "Burst Firing in Neurons: Do Astrocytes Have a Role?" Faculty mentor, Murali Temburni, Delaware State University.
McNair/NUCLEUS Student: Arianna Morton, senior, human development and family studies. Research title, "Exploring How Skin Color Is Represented in Teaching Materials and May Impact Physicians' Perspectives on Certain Skin Conditions." Faculty mentor, Barret Michalec, assistant professor of sociology, UD.
McNair/NUCLEUS Student: Edna Ofori, senior, medical laboratory sciences. Research title, "In Vitro Co-culture of MCF-7 Cells and Preadipocytes to Observe Cell Proliferation." Faculty mentor, Arun Kumar, assistant professor of medical laboratory sciences, UD.
NUCLEUS/INBRE/Summer Scholar Student: Fanta Kalle, senior, biological sciences. Research title, "Effects of FGFZ,VEGRA, and Disulfated Heparin on the Phenotype of TCPS Cultured Human AFs and MVECs." Faculty mentor, Robert Akins, Nemours/Alfred I. duPont Hospital for Children.