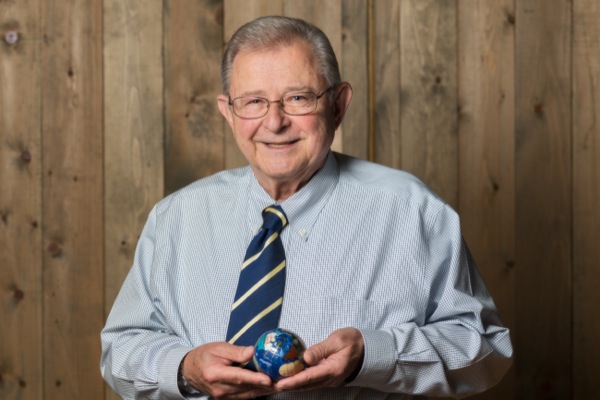 Study abroad honors
Arena selected 2013 Study Abroad Faculty Director of the Year
9:31 a.m., Dec. 2, 2013--When the University of Delaware's Louis Arena arrives in Italy, it seems as though the entire country takes notice, welcoming him warmly as family.
But Arena, associate professor emeritus of linguistics and cognitive science, rarely travels to Italy alone — most often, he's leading a class of UD students.
Fulbright awards
Three University of Delaware students and an alumna have received word this spring that they will travel abroad as part of the newest class of Fulbright Student Program award winners.
Peace Corps plans
Two University of Delaware students, John McCarron and Bridgette Spritz, have been selected as Peace Corps volunteers and will serve in Ghana and Rwanda.
"In every way, the best part of my entire trip was the insight and knowledge Professor Arena was able to provide," wrote one student after participating in Arena's study abroad program on linguistics and English held during Winter Session this past January.
"He was always challenging us to view what we were learning in terms of real world situations," wrote another UD student. "We had to actually go out and interact with citizens from each of the cities we visited and then do a linguistic write-up on the results we found. Talking with natives of Italy really pushed us to immerse ourselves in the culture and the write-up was no easy task, challenging but rewarding."
Another student noted, "Professor Arena taught me more in one month than any other professor has in an entire semester. He truly made this a once in a lifetime experience."
These are just a few of the student nominations that contributed to Arena's selection as UD's Study Abroad Faculty Director of the Year.
A faculty panel unanimously voted for Arena to receive the honor, as well as study abroad coordinators at the Institute for Global Studies (IGS), based on his "endless work mentoring faculty in program development and encouragement of students to become global citizens," according to IGS Deputy Director Amy Johnson.
Expanding students' cultural horizons has been a major goal of Arena's over the nearly 14 years he has been involved with study abroad. While Italy has been a preferred destination for this native speaker of an Italian dialect, Arena also has co-directed a study abroad program in Switzerland and has considered proposing a program in Japan since Japanese is his major language.
"In one word, 'diversity' is what attracts me to Italy, in every city, village, restaurant, church, tradition, local and national holiday, and even in the educational system throughout the country," Arena says. "There is diversity in the native Italian population in terms of language, dialects, history, culture, food and beverage, among lots of others." 
Arena says the goal of all of his study abroad programs is for UD students to return to the U.S. and to celebrate diversity in all of its many facets — racial diversity, cultural diversity, linguistic diversity, historical diversity, diversity in art, social interactions, philosophies, religions, science — and to like, if not love, the culture and people of a country other than ours.
"My experience is that when a student 'likes' (or loves) the culture and the people of a different country, then that student will learn the language of the people of that country really easily, pleasantly, and comfortably," Arena notes. 
"When students really love their experience abroad, they return as essentially different persons. It's almost as if the students had discovered fire for the second time in the history of mankind," he says, with a twinkle in his eye. 
Arena was honored by the IGS staff at a luncheon held at Tarantella di Napoli in Newark, Del., where he was presented with several gifts. His name also now appears on a plaque displayed in Elliott Hall.  
Mille grazie, caro professore! 
Article by Tracey Bryant
Photo by Evan Krape