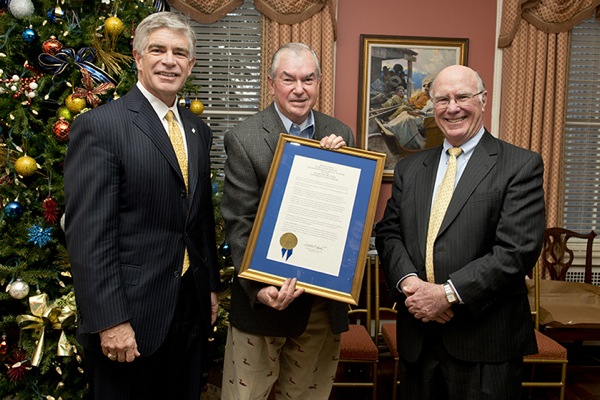 Trustees meet
New strategic plan initiatives discussed at Board of Trustees meeting
4:42 p.m., Dec. 13, 2013--University of Delaware President Patrick Harker discussed efforts to revisit and redefine the goals of the University's Path to Prominence strategic plan during the Board of Trustees semiannual meeting, held Tuesday, Dec. 10, in the Trabant University Center.
"Our progress over the past five years has been real and substantial," Harker said. "That's a credit to a whole team involving thousands of people who believed in the direction we were going and who took the plan's mandates seriously."
From graduates, faculty
As it neared time for the processional to open the University of Delaware Commencement ceremonies, graduating students and faculty members shared their feelings about what the event means to them.
Doctoral hooding
It was a day of triumph, cheers and collective relief as more than 160 students from 21 nations participated in the University of Delaware's Doctoral Hooding Convocation held Friday morning on The Green.
As the next round of strategic planning begins, Harker said UD is fortunate to have the people, brilliance, resources and relationships to examine issues of institutional identity and character. 
"It's time to be bold, to be daring, to put everything on the table and invent ourselves again," Harker said. "I really believe that it's bigger than transforming an institution. We can transform an industry, build it again from the ground up, where nothing's sacred and nothing's a given." 
With the public spotlight turned on higher education, Harker said now is the time for the University to assume a leadership role in implementing the transformation. 
"We need to fix the problems of access, affordability and success and to better translate our scholarship into solutions with impact," Harker said. "We need to dig deep into our mission, to examine and debate it, and then do what that mission dictates." 
Strategic planning
University Provost Domenico Grasso outlined a framework for implementing the next stage of strategic planning, built on a framework of intellectual content and infrastructure.
"I am honored to be here as part of the Blue Hen community and build on the success that President Harker has led," Grasso said. "Building on the framework of the last strategic plan, our new plan will have several major components, including grand challenges."
Grasso said that examples of these grand challenges could include the development of high quality pre-K through 12th grade education, development of sustainable food systems, green energy and cyber security.
It is important to embrace engagement in the great debates that define our times, he said, on issues such as when political compromise is the right choice, striking the correct balance between national sovereignty and human rights, the ethics of genetic engineering, and income inequality. 
"There is also the challenge of big ideas, to go where no one has gone before," Grasso said. "To do this, we have the wonderful STAR Campus to help us meet these challenges."
The framework for the next strategic plan also includes identifying an intellectual infrastructure, Grasso said.
"One of these issues is cost containment. We must make higher education affordable, and we must make it accessible," Grasso said. "Excellence without access is nothing." 
An example of this effort, Grasso said, can be seen in UD's Associate in Arts Program in the College of Arts and Sciences, which recently received an award from Talent Greater Philly for improving college access, affordability and degree completion.
Additional areas of identification under intellectual infrastructure include curriculum development and organizational structure, Grasso said. 
"Universities have been organized the same way since the Reformation, and despite its persistence, it's not 'the only way' -- it may not even the best way," Grasso said. "We can structure ourselves to alleviate the limitations we complain about and advance our mission, make it all about the end-game, the outcome and not just about organization." 
Grasso said that an executive committee of three to five members is expected to be appointed by the end of this month, with work beginning after the holiday break. 
University research
Charles G. Riordan, vice provost for research and professor of chemistry and biochemistry, highlighted recent major research awards, including a $25 million grant for clinical and translational biomedical research from the National Institutes of Health and a $24 million EPSCoR renewal grant from the National Science Foundation. 
"It has been a tough economic climate for those of us in academia to secure research funding with the sequestration in place," Riordan said. "Despite those great challenges, the University's faculty, students and staff have been remarkably successful in securing the necessary funds from the federal government and other sources for the research activities on our campus."   
Riordan, who recently joined Harold (Hal) B. White III, professor of chemistry and biochemistry, in being elected fellows of the American Association for the Advancement of Science, noted the potential losses in research funding if the federal sequestration continues for the next decade. 
"Our congressional delegation, including Sens. Tom Carper and Christopher Coons and Rep. John Carney, understand the debilitating impacts of the cuts," Riordan said. "What's at stake is vital research that expands knowledge, seeds discoveries and creates whole industries around them, industries that meet critical human need and drive economic growth." 
Board actions
The Board of Trustees approved several resolutions, including:
• Approving honorary degrees for Elizabeth Ann Sonders at the 2014 Winter Commencement ceremony on Jan. 12, and for Myron T. Steele and Roberta F. Colman, as members of the spring 2014 honorary degree class, with conferrals to be made at Commencement on May 31;
• Thanking alumni, friends and foundations who have been generous benefactors to UD;
• Granting approvals for the establishment of a doctoral degree program in financial services analytics (seven years provisionally) in the Alfred Lerner College of Business and Education, and a 4-plus-1 bachelor of science and master of science in statistics in the Department of Applied Economics and Statistics; and granting permanent status for the bachelor of science in quantitative biology and for the bachelor of science in psychology, both in the College of Arts and Sciences; and
• authorizing the president to confer degrees at Winter Commencement on Jan. 12.
In other action, Kenneth C. Whitney was reelected to a six-year term as a member of the Board of Trustees, to be confirmed by the Delaware State Senate.
Also, the trustees approved a resolution congratulating individuals who have been recognized with special faculty honors, including Paul Quinn, professor of psychology and recipient of the Francis Alison Faculty Award; Juejun Hu, assistant professor of materials science and recipient of the Gerald J. Mangone Young Scholar Award; and new named professors Adam Rome, Unidel Helen Gouldner Career Development Chair for the Environment; Holly Michael, Unidel Fraser Russell Career Deveopment Chair for the Environment; Kent Messer, Unidel Howard Cosgrove Career Development Chair for the Environment; Pam Cook-Ioannidis, Unidel Professor of Mathematical Sciences; Michaela Taufer, David and Beverly Mills Career Development Chair of Computer and Information Sciences; Marsha Dickson, Irma Ayers Professor of Human Services; Jennifer Joe, Whitney Family Chair of Accounting and MIS; and Barbara Habermann, Nannie Longfellow Professor of Nursing.
Special presentation
At a reception after the formal board meeting, A. Gilchrist Sparks, chairman of the Board of Trustees, presented a special resolution expressing gratitude to former Newark Mayor Vance A. Funk III, for his "dedication and tireless efforts ... to support and encourage strong, productive relationships between the city of Newark and the University of Delaware." The resolution reads, in part, "during his tenure as mayor, Mr. Funk was largely responsible for developing and strengthening the strong relationship which now exists between the University and the city of Newark, and Mr. Funk's willingness to foster open communications with past and current University leadership has helped carry out his vision of Newark as a vibrant place to live and learn." 
A 1965 UD graduate, Funk served as mayor of the city of Newark from 2004 to 2013.   
Article by Jerry Rhodes
Photo by Lane McLaughlin