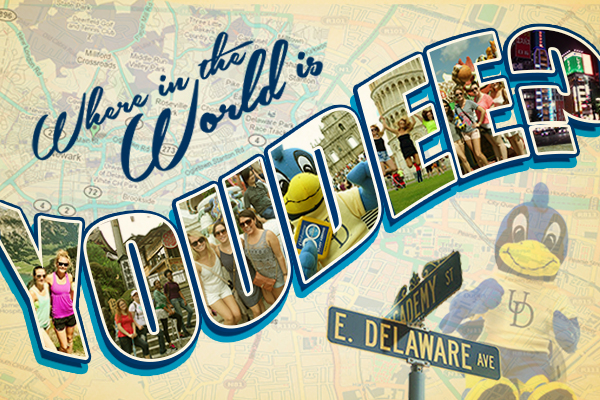 YoUDee abroad
YoUDee travels the world with University's study abroad students
1:44 p.m., Aug. 14, 2013--This summer, YoUDee went global as the University of Delaware's Facebook followers tried to answer the question, "Where in the world is YoUDee?"
Throughout the month of July, student Global Study Ambassadors from among the University's many study abroad programs shared a picture of a stuffed YoUDee they brought with them on their adventures to the official UD Facebook page.
Fulbright awards
Three University of Delaware students and an alumna have received word this spring that they will travel abroad as part of the newest class of Fulbright Student Program award winners.
Peace Corps plans
Two University of Delaware students, John McCarron and Bridgette Spritz, have been selected as Peace Corps volunteers and will serve in Ghana and Rwanda.
Using clues in the photo, those at home were asked to guess, "Where in the world is YoUDee?" 
YoUDee's travel-mates this summer included Global Study Ambassadors Vi Bui, Paige McGovern, Tina Whittington and Kait Houser. 
Bui spent this summer in Hong Kong with the business administration internship program. Sharing her experience with YoUDee, she worked with GE Healthcare's regional operations department and, in her spare time, explored Hong Kong's urban and ancient sites. 
"I really loved representing UD in this way. I think it gave my Hong Kong coworkers a little taste of what American university life is like," Bui said. "Hong Kong culture has this unique combination of tradition and modernization. It's quite different from the American perspective."
Studying abroad in two locations this summer, McGovern traveled to both Switzerland and Italy with UD's business administration and hotel, restaurant and institutional management programs. There, she and other students explored reputable Swiss spas and dined in high-end European restaurants. 
"I am a marketing and health behavior science major, so being with the HRIM program was really interesting and eye opening," said McGovern. "I took beverage management and spa entrepreneurship. Being abroad and outside of the classroom really opened my eyes to the way other people in the world live — I learned a whole new lifestyle."
Read more about this program here.
Putting her knowledge of the Japanese language to the test, Whittington traveled to Kobe, Japan. There, she delved into an entirely new culture and adapted accordingly — from deciphering maps to conversing with natives and even spending a day unwinding at the onsen (hot springs). She said that she and YoUDee certainly had quite the experience.
"There are many more pictures than the one that made it onto the Facebook page — YoUDee posing with my friends, my teachers, our host school's mascots, my host family, and all over Japan," Whittington said. "Everyone loved it and wanted a chance to pose with YoUDee."
Spending five weeks in Salamanca, Spain, Houser fully immersed herself in the Spanish culture by living with a host family and taking classes abroad. She said that after a weekend in Barcelona, she fell in love with the city's vibrant colors and diverse population. With the stuffed Blue Hen tucked in her bag, she was grateful to stay connected to campus while experiencing a new environment.
"As much as I loved visiting Spain, nothing feels more like home to me than Newark and UD," she said.
Summer 2013 was the second summer in a row the University's Office of Communications and Marketing has run the social media campaign. Winners who correctly guessed where YoUDee was each week included UD Facebook followers Marybeth Drago Picchiello, Stefanie Lee, Janae Pringle and Allen Chang. 
Article by Laura Hepp
Image by Liz Zenz