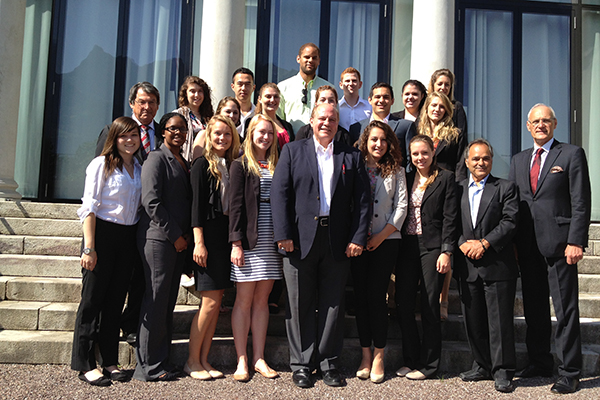 Bridging the gap
HRIM students gain firsthand insight into the world of Swiss medical tourism
2:10 p.m., Aug. 7, 2013--Students in the University of Delaware's Department of Hotel, Restaurant and Institutional Management (HRIM) again had the opportunity to get the inside scoop on the Swiss medical tourism model of hotels bridging health care (H2H) during a recent trip to the Grand Resort Bad Ragaz Wellbeing and Medical Health Center. 
The Bad Ragaz, a unique wellbeing destination defined by the seamless integration of health care and luxury, is a leader in the H2H concept that bridges resorts with medical facilities.
Fulbright awards
Three University of Delaware students and an alumna have received word this spring that they will travel abroad as part of the newest class of Fulbright Student Program award winners.
Peace Corps plans
Two University of Delaware students, John McCarron and Bridgette Spritz, have been selected as Peace Corps volunteers and will serve in Ghana and Rwanda.
Located in Switzerland, the resort is part of the epicenter of medical tourism, rooted in the nation's century-old reputation for high quality health care and exquisite service.
"This marks the fifth year returning to the Bad Ragaz with UD to study health and wellness and medical tourism," said Fred DeMicco, ARAMARK Chair in Hotel, Restaurant and Institutional Management. "This is a growing field for our UD graduates, as hospitality, food and wellness are at the forefront of many consumer lifestyles."
Elana Berk, an HRIM major studying abroad, said the students had the privilege of listening to Bad Ragaz CEO and president Peter Tschirky give a passionate speech about his professional journey and the future of the Grand Resort Bad Ragaz during a one-day seminar. 
"If you want to design your future, you must know your history," Tschirky told the students.
According to Tschirky, the Bad Ragaz has roots in medicinal hot springs discovered in 1242. Today, the hot springs have become a luxurious spa experience know as the Tamina Therma, a 7,300-square-meter area of restaurants and shops that also includes a whirlpool, recliners, waterfall, current channels, outdoor pool, steam bath and sauna.
"We had the chance to take a dip in the natural thermal hot springs that have supposed medicinal qualities," Berk said. "I believe patients can really benefit when they are placed in a soothing, relaxing environment rather than the typical antiseptic, cold environment of most hospitals."
Tschirky also encouraged the students to take ownership of their career path.
"Have knowledge of your field, love what you do, learn as many languages as you can, travel the world as much as possible, plan your career carefully and if you're not happy, change it," said Tschirky. 
Peter Kappert, president of the Swiss Leading Hospitals association, also spoke to the students during the one-day seminar and discussed the high demand for hospital managers. He explained that hospital managers will increasingly play an important role in improving the field and the quality of service.
DeMicco agreed. "Our graduates will be managing directors and general managers of these blended hospitality and wellness 'campuses' as medical tourism and travel continues to expand across the globe," he said.
Article by Christopher Pinti
Photo courtesy of Fred DeMicco