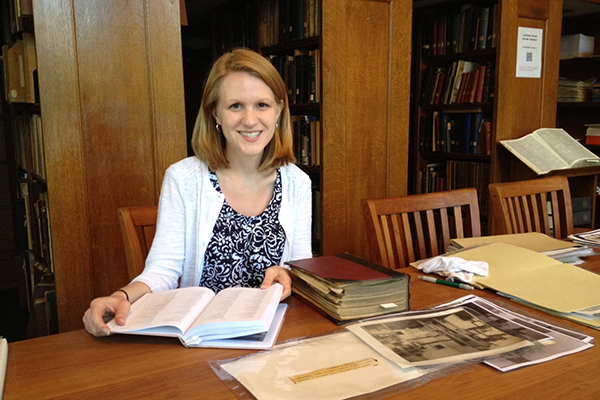 Science in photos
UD student works with images of research labs' history
8:33 a.m., Aug. 14, 2013--Students in the University of Delaware's Winterthur Program in American Material Culture often concentrate on the decorative arts, but many specialize in other areas as well.
Angela Schad, a Culture Fellow in the master's degree program, has spent the summer on work that combines her interests in material culture, science and history. An internship at the Carnegie Institution in Washington, D.C., allowed her to delve into collections of photographs that document the work in two key research laboratories of the early 20th century, including one devoted to the then-brand-new field of geology as a lab science.
'Resilience Engineering'
The University of Delaware's Nii Attoh-Okine recently published a new book with Cambridge University Press, "Resilience Engineering: Models and Analysis."
Reviresco June run
UD ROTC cadets will run from New York City to Miami this month to raise awareness about veterans' affairs.
Schad worked with photographic collections from two Carnegie Institution departments — the Department of Terrestrial Magnetism and the Geophysical Laboratory — whose records are housed in a single library. 
Founded in 1905, the Geophysical Laboratory (GL) was established to replicate complex natural geological processes in a controlled setting. Its early years were documented with numerous photos of laboratory interiors and equipment, including special furnaces that were used to study thermodynamic processes. Schad has worked to catalog the photos for use in an online database that researchers can use in future work.
"The fields of geochemistry and geophysics as they are defined today were only beginning to be formed in the early 20th century," Schad said. "GL was the first of its kind to be devoted to geology as a laboratory science."
She said she hopes to focus her master's degree thesis on the GL, examining "how an institution went about equipping a state-of-the-art laboratory in a brand-new field of science." She plans to explore such questions as whether the lab's equipment was purchased or built by in-house machine shops and how the scientists working there publicized their findings.
Compared with the GL photos that seem to have been kept in no particular order, Schad said, the images taken at the Department of Terrestrial Magnetism (DTM) were meticulously kept and pasted into albums. During her summer internship, she also worked with these DTM photographs, which she said primarily depict scientific instruments, many of them sent to the department from collaborators around the world. The department itself was created in 1904 to map the Earth's magnetic field, but its mission evolved after that task was largely completed in the 1920s. 
"It's fascinating to see how this unique research institution changed over the decades," Schad said. "The first albums are full of images of magnetometers, inductors and other geomagnetic equipment, but in later albums you can clearly see the focus shift to instruments used in the study of the ionosphere and high-voltage nuclear physics."
The interdisciplinary Winterthur Program in American Material Culture teaches students how to look at objects and to study people's relationship to those objects through coursework, the use of the Winterthur Museum collections and a variety of fieldwork experience.
Article by Ann Manser
Photo courtesy of Angela Schad