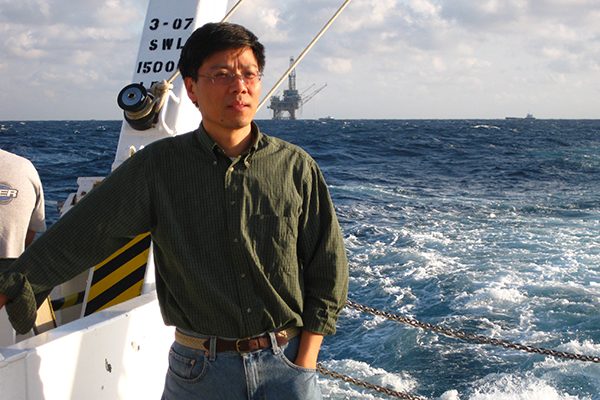 Aug. 15: Ocean Currents lecture
Carbon's role in the changing global climate is focus of public lecture in Lewes
2:21 p.m., Aug. 1, 2013--When power plants and cars release pollution, large amounts of carbon dioxide wind up not just in the air but also in the ocean. As more and more carbon dioxide enters the atmosphere, the world's oceans are soaking up much of the excess. 
"The last hundred years, humans have been doing a big environmental experiment," said Wei-Jun Cai, professor of oceanography in the School of Marine Science and Policy within the University of Delaware's College of Earth, Ocean, and Environment (CEOE). "How the ecosystem is adjusting to such change is a big concern." 
June 5: Blue Hen 5K
University of Delaware graduates planning to attend Alumni Weekend are encouraged to register for the annual Blue Hen 5K walk and run, which will be held Sunday morning, June 5.
June 6-9: Food and culture series
The 20th annual June Lecture Series at the Osher Lifelong Learning Institute at UD in Wilmington will be held June 6-9. Titled 'June a la Carte,' this year's program focuses on great political documents, feminism, world politics and a Newark cuisine sampler.
Cai will provide a worldwide perspective on carbon in the environment at the next Ocean Currents lecture, titled "The Global Carbon Cycle in a Changing Climate." The presentation will take place on Thursday, Aug. 15, at 7 p.m. in Room 104 of the Cannon Laboratory at the Hugh R. Sharp Campus in Lewes.
An expert in carbon's movement through estuaries and coastal oceans, Cai joined UD in January from the University of Georgia. There, much of his research focused on the southeastern estuaries and shelves, the Gulf of Mexico and variations in carbon and oxygen levels in seawater depending on environmental conditions, with federal and private funding. 
On the plus side, the ocean uptake of carbon dioxide alleviates carbon dioxide accumulation in the atmosphere and thus global warming. However, when excess carbon dioxide in the air enters the ocean, the water's chemistry changes and becomes more acidic in a process called ocean acidification. The more acidic seawater can impede growth of animals with carbonate structures, such as the shell of an oyster or a coral's skeleton.
Combine ocean acidification with another source of water pollution — nutrient runoff from fertilizer — and the result can be exponentially worse. The nutrients cause extensive growth of algae, which gets eaten by microbes that consume oxygen in the water and give off more carbon dioxide. 
"The combined result is even more than you would expect than by just adding them together," Cai said.
While Cai was collecting data annually in the Gulf of Mexico, another manmade factor came into play: the 2010 Deepwater Horizon oil spill. After the failed rig gushed oil, a source of carbon, into the water, Cai saw signs in his data that oxygen and carbon dioxide levels were changing. With the oil present, while there was more oxygen consumption, the ratio of carbon dioxide production and oxygen consumption became less than it would be from marine or land organic carbon decomposition, thus providing a method to identify oil-induced oxygen consumption. 
Cai received funding from the Gulf of Mexico Research Initiative to study the signals further, finding a recovery in the water chemistry in 2011. He and his colleague Xinping Hu of Texas A&M University are now examining carbon present in the sediment and plan to develop a standard protocol to evaluate the degradation of petroleum carbon and associated oxygen dynamics. This could help tell how oil impacts the environment and the ecosystem.
"If we could develop such a protocol, and in the future oil spill researchers could follow a similar approach, rather than just with an oxygen sensor alone," Cai said. 
A graduate of Xiamen University in China, Cai earned a master's degree in marine chemistry from Shandong College of Oceanography in Qingdao, China, in 1985 and a Ph.D. in oceanography from Scripps Institutions of Oceanography in San Diego, Calif., in 1992. He was a postdoctoral researcher at Woods Hole Oceanographic Institution before joining the University of Georgia in 1994. 
At the University of Delaware, he plans to further his research on ocean acidification, partnering with CEOE faculty member Mark Warner to examine how corals respond to the phenomenon using tiny sensors that measure the acidity of water inside of coral. He also plans to study carbon dioxide and oxygen levels in Delaware Bay, partnering with other CEOE faculty members using ferry monitoring, in situ sensors, underwater vehicles and remote sensing approaches. 
"There are new opportunities and new challenges here, and I look forward to developing collaborations," he said.
In his Ocean Currents lecture, Cai will also evaluate several geo-engineering options — ways people can remove carbon dioxide from the atmosphere and alleviate global warming. The lecture is free and open to the public, but reservations are required due to limited seating and can be made by contacting Marcia Pettay at mpettay@udel.edu or 302-645-4346. Light refreshments will be served. The Hugh R. Sharp Campus is located at 700 Pilottown Road in Lewes.
Article by Teresa Messmore