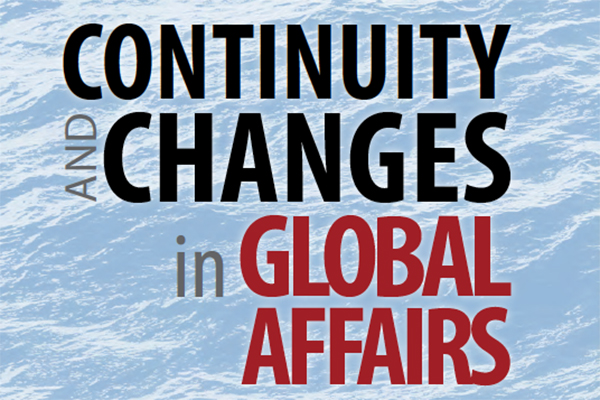 Global lecture series
Series to examine 'Continuity and Changes in Global Affairs'
8:34 a.m., Aug. 28, 2013--The University of Delaware Center for Global and Area Studies (CGAS) has announced its fall lecture series, "Continuity and Changes in Global Affairs."
The one-credit, pass/fail class (ARSC 367-010) will explore issues of continuities and changes in literature, history, anthropology, politics and economics, among other disciplinary approaches.
Fulbright awards
Three University of Delaware students and an alumna have received word this spring that they will travel abroad as part of the newest class of Fulbright Student Program award winners.
Peace Corps plans
Two University of Delaware students, John McCarron and Bridgette Spritz, have been selected as Peace Corps volunteers and will serve in Ghana and Rwanda.
Recognizing long-term continuities and discontinuities is essential to understanding how societies operate and evolve. This series explores such issues in different contexts in Africa, Asia, Europe and Latin America, as well as in the Islamic and Jewish world.
The lectures will take place on Wednesdays from 12:20-1:10 p.m. in 122 Memorial Hall. The first lecture will be held Wednesday, Sept. 18.
Those who have questions should direct inquiries to Carla Guerrón Montero at cguerron@udel.edu. Students who took previous versions of this class are welcome to register again.
Lectures are open to the public, and are scheduled as follows:
Sept. 18 — Lu Ann de Cunzo, University of Delaware (European/American Studies), "Continuity and Change: the Legacy of Colonialism in Delaware."
Sept. 25 — Monica Dominguez Torres, University of Delaware (Latin America and Iberian Studies), "Picturing 'Indian' Nobility in Colonial Mexico."
Oct. 2 — Mark Miller, University of Delaware (European Studies), "International Migration to Europe: Past, Present and Future."
Oct. 9 — Jean Pfaelzer, University of Delaware (Asian Studies), "Driven Out: The Long Legacy of Deportation as U.S. Immigration Policy."
Oct. 16 — Maria Aristigueta, University of Delaware (Latin American and Iberian Studies), "The Role of Civil Society in Continuity and Change in Cuba."
Oct. 23 — Joshua White, Council on Foreign Relations (Islamic Studies), "Good Taliban, Bad Taliban? Deciphering Debates about the Islamic State in Pakistan."
Oct. 30 — Roger Horowitz, Hagley Museum (Jewish Studies), "Kosher Coke: Processed Foods and the Observant Jewish Consumer."
Nov. 6 — Monika Shafi, University of Delaware (European Studies), "Narratives of the Nation: Literary Responses to German Reunification."
Nov. 13 — Melissa Melby, University of Delaware (Asian Studies), "Life Changes at the 'Change of life': Reflection and Redirection at Menopause among Japanese Women."
Nov. 20 — Wunyabari Maloba, University of Delaware (African Studies), "Globalization and Women in Africa."
For a flyer about the program in PDF format, click here.